Hernandez sent down to get playing time at Triple-A
Hernandez sent down to get playing time at Triple-A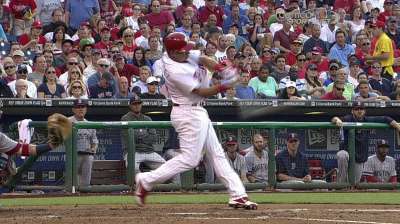 MINNEAPOLIS -- The Phillies recalled utility infielder Michael Martinez from Triple-A Lehigh Valley on Thursday.
He replaced Cesar Hernandez, who they optioned to Lehigh Valley on Wednesday.
Phillies manager Charlie Manuel said they made the move essentially because they have high hopes for Hernandez, who was not getting to play on a regular basis. He went 7-for-28 in limited action with the Phillies but had been hitting .305 with five doubles, six triples, two home runs, 18 RBIs and an .810 OPS in 213 plate appearances with Lehigh Valley.
"Cesar had a big year going," Manuel said. "I wouldn't want to label Cesar as a utility player right now. When he comes up, he has to get a chance where he's playing a lot. Right now Freddy Galvis is getting a chance to play."
Martinez has hit just .187 with a .509 OPS in 358 plate appearances in parts of three seasons with the Phillies. The Phillies like his ability to play multiple positions. They are not worried about him going stale on the bench, like with Hernandez.
Todd Zolecki is a reporter for MLB.com. This story was not subject to the approval of Major League Baseball or its clubs.