Rays-turned-Royals embrace return to Trop
Rays-turned-Royals embrace return to Trop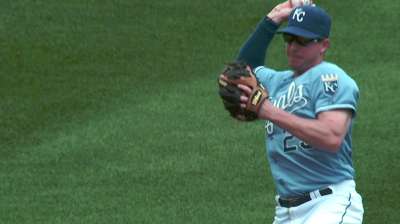 ST. PETERSBURG -- Having ex-Rays Wade Davis and Elliot Johnson with him when he joined the Royals was a great help to James Shields.
"Having Wade and Elliot there has definitely made it easier," he said. "But these guys [the Royals] are so young, they want to win, they want to have fun and they made it easy. And definitely having Wade and Elliot here has made it great. We've just come in here with what we've always had -- a winning attitude -- and hopefully we can win a lot of ballgames here."
Davis was looking forward to having a meal with his old bullpen pal, Jake McGee. Davis was in the Rays' organization for nine years and spent four-plus seasons in the domed Tropicana Field.
"It's kind of a weird place; it takes a little while to warm up to a little bit, but I've always liked playing here and pitching here," Davis said. "A great atmosphere in general. It's a good stadium to pitch in. It's a pretty true ballpark. You've got to hit it to hit it out -- especially in center field. It's a fair game here."
Johnson spent 11 years in the Rays' system, mostly in the Minors, but he was with Tampa Bay in 2011-12.
"It's a little different, first time being on the visitors' side and being in the third-base dugout," Johnson said. "But I've been here plenty, and I was spreading the news about the field, obviously all the pitchers that they have and anything else anybody wants to know."
An infielder, Johnson was well-versed in the quirk about the third-base line.
"The third-base line is a little bit tricky," he said. "If you put a ball -- bunt, swing or whatever -- in between the line and the turf, it'll stay fair. But if you drop it on the turf, and it rolls off the turf toward the foul line, it's going foul every single time. Even if it's placed well."
One of Johnson's best buddies with the Rays was outfielder Sam Fuld.
"I probably need to send something over to Sammy," Johnson said. "I haven't thought of anything really good to do yet, but I'll get on it pretty soon. He'll have something in his locker before the series is over."
Watch out, Sam.
Dick Kaegel is a reporter for MLB.com. This story was not subject to the approval of Major League Baseball or its clubs.