Rays' timely hitting thrown off vs. Red Sox
Rays' timely hitting thrown off vs. Red Sox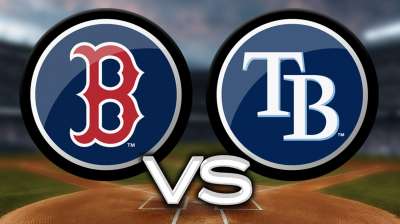 ST. PETERSBURG -- Joe Maddon did not even need to hear the rest of the question after Wednesday night's 2-1 loss to the Red Sox. The Rays have hit .300 this year with runners in scoring position, the second-highest mark in the Majors behind the Cardinals' .339 mark. They have come up with big hits in those situations all year against everyone...
"Except this team right here," Maddon said of Boston. "We've not been very good with that. Why? I don't have a really good reason for that. We just have not."
Indeed, the Rays have hit a mere .141 (12-for-85) against the Red Sox with runners in scoring position, including .092 in their seven losses to Boston, arguably the difference between winning and losing several of the close games the American League East rivals have played.
"You've got to give credit to the other team," Rays designated hitter Luke Scott said. "They're a good baseball team. They're well-trained; they've got a good staff, well-managed and they go out there and they execute well, so you've got to give them credit.
"But at the same time, we can do better, starting with myself. I'll be the first one to admit that I've had opportunities and just haven't gotten the job done. It's been frustrating, but there's a lot of baseball left, still early in the year."
Against all other opponents, Tampa Bay is batting .330 with runners in scoring position. The club's .300 overall mark is a dramatic improvement from 2012 (.243) and 2011 (.224) and has played a huge part in the Rays' offensive improvement this season. And they believe they will pick it up in future games against the Red Sox, too, even if it has not happened so far.
"We've just got to get the guys in like we've been doing. But that stuff's all cyclical," Kelly Johnson said. "Our time will come, I hope, against them. As long as we keep doing it against other teams, it'll help, obviously."
Adam Berry is a reporter for MLB.com. Follow him on Twitter at @adamdberry. This story was not subject to the approval of Major League Baseball or its clubs.