Darvish fans nine, but Rangers held to one run
Darvish fans nine, but Rangers held to one run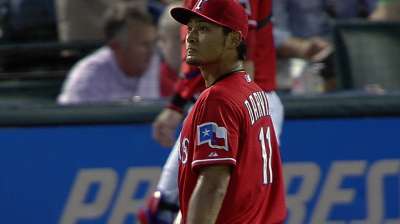 ARLINGTON -- Yu Darvish has a 2.08 ERA in his last five starts. Opponents are hitting .184 off him, and he is averaging 11.30 strikeouts per nine innings.
But he doesn't have a win to show for that Cy Young-like work. In fact, the Rangers have lost four of those five starts.
Darvish was the latest victim of an ongoing offensive drought after the Rangers' hitters went down quietly in a 3-1 loss to the Blue Jays on Thursday night at the Ballpark in Arlington.
Edwin Encarnacion's two-run double in the eighth was the decisive blow for the Blue Jays, and the Rangers are now two games behind the Athletics in the American League West.
The loss was the Rangers' seventh in their last 10 games, and they are 4-8 in June. So far for the month they are hitting .219, with a .296 on-base percentage and .379 slugging percentage, and they are hitting .170 with runners in scoring position after going 0-for-1 on Thursday.
Their only run on Thursday came on Nelson Cruz's homer in the second inning.
"I think the whole team is going through a funk where we're not doing things right," third baseman Adrian Beltre said. "We know we can do a lot better than we've done. We haven't done that lately in these last 10 games or so. Sometimes when you lose a lot of games, it looks bigger than it is. Sometimes when you score a lot of runs and the team is doing good, the mistakes don't show it. When you're playing the way we're playing, the mistakes are going to hurt."
The lack of run support for Darvish extends back before June. He was 7-1 with a 2.97 ERA through his first nine starts because his teammates were averaging 6.83 runs per nine innings. But in his last five starts (a combined 34 2/3 innings), the Rangers scored just seven runs when he was on the mound. That's an average of 1.82 runs per nine innings.
That's the biggest reason why he hasn't won a game since May 16, against Detroit.
"I'm not amazed, this is baseball," Darvish said. "Anything can happen. Some games you get a lot of run support, and some games you don't. My approach to the game is the same -- try to minimize the damage as much as I can. My job is to contribute to the team as much as possible and make the game as close as possible."
He did just that by holding the Blue Jays to one run on three hits and two walks while striking out nine, but Blue Jays starter Esmil Rogers was just as good, holding the Rangers to one run in seven innings in his 25th Major League start. It is only the second time in those 25 starts that he has completed seven innings.
The Rangers had just six hits on the night, and Cruz's home run was the only one to go for extra bases.
"It's disappointing, especially when you've got your ace on the mound and you're not able to put some runs so he can feel comfortable," shortstop Elvis Andrus said. "Believe me, we're still working up there. We know we need to get better. The best way to get better is to keep fighting, keep swinging and create opportunities. We're not doing that early in games, and that's costing us a lot of games right now."
But Darvish was not without his share of culpability in this one. Cruz's home run gave the Rangers a one-run lead, but Darvish allowed the Blue Jays to tie the score immediately. Emilio Bonifacio led off the Blue Jays' third with a single, stole second and, after Munenori Kawasaki walked, scored on a single by Melky Cabrera.
That was the only run Darvish allowed, but he also threw 110 pitches over seven innings, and that made manager Ron Washington go to the bullpen in the eighth inning.
"His command wasn't what it usually is," Washington said. "But the guy is a pitcher. He knows the hitters, and he was able to make pitches when he had to. Other than that, he did his job. You're not able to go out every time and dominate, but he did everything he could to make sure we stayed in the game."
Darvish left with the score at 1-1, but the bullpen couldn't keep it tied. The defense didn't help, though; Bonifacio opened the inning with Neal Cotts on the mound by reaching on Beltre's throwing error. Bonifacio was bunted to second by Kawasaki and went to third on Cabrera's grounder. Tanner Scheppers then took over for Cotts.
Scheppers got ahead, 1-2, on Jose Bautista, but then walked him after an eight-pitch confrontation. That brought up Encarnacion, who doubled to put the Blue Jays ahead.
"Adrian is human, too. Everybody makes mistakes," Washington said. "But even though he made that mistake, we had a chance to get out of that inning without them scoring a run and didn't get it done."
But the offense is still the biggest concern right now.
"We just need some continuity throughout the lineup," Washington said. "We need to get some back-to-back hits, and we need to get some hits with runners in scoring position. If we do that, everything will fall back into place."
T.R. Sullivan is a reporter for MLB.com Read his blog, Postcards from Elysian Fields and follow him on Twitter @Sullivan_Ranger. This story was not subject to the approval of Major League Baseball or its clubs.