Gibbons named to AL All-Star coaching staff
Gibbons named to AL All-Star coaching staff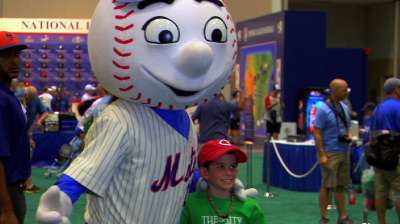 ARLINGTON -- Manager John Gibbons received an unexpected honour on Thursday afternoon, when it was announced that he had been named to the American League coaching staff for the All-Star Game at Citi Field in New York on July 16.
Gibbons was added to the team by his good friend -- and Detroit manager -- Jim Leyland. The two first connected shortly after Leyland was named the Tigers' manager in 2005 and have been close ever since.
The 51-year-old Gibbons will be joined on the staff by White Sox manager Robin Ventura.
"It's a thrill just to get an opportunity in Major League Baseball to go to a game like that," Gibbons said. "Then, to be selected by Jim Leyland, I think the world of him. He's recognized in the baseball world as one of the top ever. His numbers speak for themselves.
"I've gotten to know him over the years, and he has always been very helpful to me if I ever had any questions. So I'm honoured, on both ends of it -- to be at the game and then to be selected by him."
The All-Star Game will be a homecoming of sorts for Gibbons, who played 18 games for the Mets in 1984 and 1986. The former catcher also managed in New York's Minor League system from 1991 to 2001 before joining the Blue Jays as a bullpen catcher in 2002.
This will mark Gibbons' second appearance at an All-Star Game. He worked the 2006 contest after being named to the coaching staff by then-White Sox manager Ozzie Guillen.
Whenever the Blue Jays face the Tigers, Gibbons can often be found having lengthy conversation with Leyland. The two shared some laughs during Spring Training, and the topics tend to be a little more lighthearted than the intense intricacies of the game.
"Little different things," he said. "Not a whole lot of strategy-type stuff ... but we just get together and have fun talking. He's a great story-teller, great joke-teller. You look at him, he's a hard-nosed, tough-looking guy, but he is very funny, and he has a big heart. Players love him, and he's had great success."
Gregor Chisholm is a reporter for MLB.com. Read his blog, North of the Border, and follow him on Twitter @gregorMLB. This story was not subject to the approval of Major League Baseball or its clubs.