Cano taking measures to solve southpaws
Cano taking measures to solve southpaws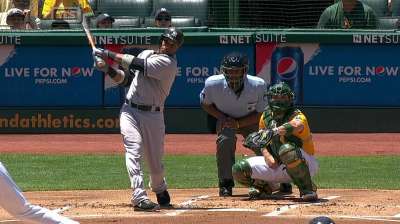 OAKLAND -- There is a huge gap between facing a left-hander in a big league game and seeing hitting coach Kevin Long during batting practice, but the Yankees hope that a slight change might help Robinson Cano crack through his struggles at the plate.
Long, a lefty, said that the Yankees are moving Cano into his group during BP so he can see a few more pitches from that side of the mound. Cano is hitting just .206 (20-for-97) against southpaws this season.
"I think Robbie is all right. We're going to do some more left-handed stuff with him," Long said. "If you look at his numbers against righties, he's killing 'em. I think where his production goes down is facing lefties."
Cano is batting .321 (50-for-156) with 11 homers and 26 RBIs against right-handers this year, and has just six extra-base hits against lefties.
He normally hits with bench coach Tony Pena's group during BP, but Cano also can often be found hitting in Long's "net drill" before games at Yankee Stadium.
"Cano's the least of our concerns, really," Long said. "He's a guy that at any time can get real hot. Robbie's one of those guys that we count on and you know is going to be there. I don't see anything out of the ordinary with him, and we'll just keep working."
Yankees manager Joe Girardi said that he does not have a solid explanation for the difference in Cano's splits.
"I know we've seen a lot of [lefties]. It's hard to say," Girardi said. "He's hit some home runs off them, but it has been somewhat of a struggle. But there is no rhyme or reason. Some years it's just like that."
Bryan Hoch is a reporter for MLB.com. Follow him on Twitter @bryanhoch and read his MLBlog, Bombers Beat. Jeff Kirshman is an associate reporter for MLB.com. This story was not subject to the approval of Major League Baseball or its clubs.