Rosario has plenty of support amid slump
Rosario has plenty of support amid slump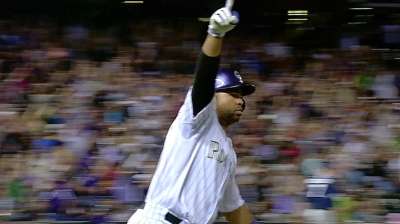 DENVER -- Rockies catcher Wilin Rosario has plenty of support as he attempts to emerge from a recent hitting slump.
Luis Coronado, who coached him as a youth and has helped pretty much all of the current Major Leaguers who hail from Bonao, Dominican Republic, and the surrounding area, has been with him at Coors Field during the current homestand.
Coronado left town Thursday, but Rosario said that his mother, Crucita, is arriving Saturday and bringing Rosario's 7-year-old baby brother. Mom will be staying for a month and a half, and presumably will be making trips to see the Rockies' Rookie League club in Grand Junction, Colo., to see another son, Jario Rosario, who will play catcher.
"Last year, she was here for two months," Rosario said. "I am very happy. I hope that the news helps me, mentally."
Rosario, who has seen his batting average drop 33 points to .234 in the last 11 games, said the visit from Coronado was encouraging.
"He helps me mentally, more than physically, and has been talking to me about how people are pitching me," Rosario said. "He told me some things because he's known me for a long time. But for the most part, we hung out together. He came to Spring Training, and came here for the first time during the regular season.
"He just said keep hitting the ball hard, and at some time you'll get some hits."
The support comes at a time when Rosario needs it, beyond his baseball numbers.
Rosario also said Thursday that he recently underwent a biopsy on the inner part of his elbow and is expecting results Friday.
Rosario said he had a water fungus on his left arm, and out of that came the decision to conduct the biopsy. About three weeks ago, Rosario began playing with a noticeable gauze-type bandage on the area of the biopsy, but he said Thursday the site has almost healed.
The Rockies, citing privacy restrictions, said they could not comment on the issue.
Thomas Harding is a reporter for MLB.com. Read his blog, Hardball in the Rockies, and follow him on Twitter @harding_at_mlb. This story was not subject to the approval of Major League Baseball or its clubs.