Borbon comes off bench to give Cubs win in extras
Borbon comes off bench to give Cubs win in extras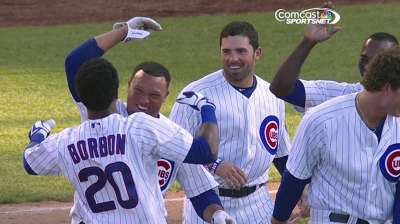 CHICAGO -- The Cubs played their own version of overtime on Thursday, as pinch-hitter Julio Borbon hit a walk-off single with two outs in the 14th to give Chicago a 6-5 victory over the Reds and avoid a four-game sweep.
Maybe the Cubs were inspired by the Blackhawks, who beat the Bruins in triple overtime Wednesday night in Game 1 of the Stanley Cup Final. The Cubs snapped the Reds' Wrigley Field winning streak at 12, the longest by an opponent in franchise history.
"I feel a lot better now that we broke that streak," Cubs manager Dale Sveum said. "If we have to play extra innings to beat them, we'll play extra innings."
With the game tied at 5, Starlin Castro singled to center against Jonathan Broxton. Anthony Rizzo struck out, but Castro stole second on the play and moved to third when Alfonso Soriano grounded out. The Reds intentionally walked Nate Schierholtz, who hit two triples in the game, to face Borbon, who lined a 1-0 pitch to left.
"I was looking for a pitch to drive," Borbon said. "I was looking for that pitch middle-away to be able to stay on it, and I got it, and I was ready for it."
The game-winning hit came five hours and seven minutes after first pitch. Borbon kept loose on the chilly day by stretching in the weight room, but he didn't take any swings off the clubhouse batting tee.
"It's my first walk-off," Borbon said. "It was definitely worth the wait."
Sveum thought the game might be over in the ninth when Castro smacked a ball off the outfield wall in left and ended up with a double.
"He crushed that ball," Sveum said. "That was a a shame -- we would've been in New York by now."
The six runs were unusual for the Cubs, who averaged 2.4 runs per game in their eight prior games entering Thursday. This was Castro's first game back in the No. 2 spot after being dropped in the order for eight games. He went 3-for-7 with two runs.
"After today, I might put him somewhere else," Sveum said.
Chicago pitchers struck out a season-high 19 batters, and the relievers shut down the Reds for eight innings.
"They were efficient," Sveum said of his bullpen. "Everybody did a great job today against a nice lineup."
"It was a good team effort," said Blake Parker, who struck out three in two innings of relief. "For me to go in a tight situation, and it's the first game I've been in that's a close game, it felt good. It felt like I was right where I wanted to be."
With one out in the first against Reds starter Mat Latos, Castro singled, stole second and reached third on a ball four wild pitch to Rizzo. Castro scored on Soriano's single that dropped between three Reds players in shallow center. It's the first time the Cubs have scored in the first inning since June 4.
It wouldn't be the first time the wind created havoc.
"Sometimes that wind can do some things," Sveum said. "We've been a victim of it, and the pitchers have been a victim of some earned runs because of the wind bringing the ball back. ... It's something you don't deal with in any other ballpark. That's the weird thing about here."
The Reds answered in the second against Jeff Samardzija, taking a 2-1 lead on RBI singles from Devin Mesoraco and Shin-Soo Choo, two of five singles in the inning. Samardzija gave up a season-high 10 hits, and also struck out six to take over the National League lead with 104 strikeouts, two more than the Mets' Matt Harvey.
"[Samardzija] was getting beat by missing fastballs up," Sveum said. "He went a little bit softer, and got out of some stuff, and got out of a big jam [in the second]. You come out throwing a lot of fastballs -- this is a good fastball hitting team."
Schierholtz tripled to lead off the fourth and scored on Welington Castillo's single to tie the game at 2. The Reds responded in the fifth when Joey Votto and Brandon Phillips each hit RBI singles to go ahead 4-2. Was that enough?
"I was thinking we didn't have enough [runs], because I've seen a bunch of weird stuff happen in this ballpark," Reds manager Dusty Baker said.
David DeJesus hit a line drive homer in the fifth to close the lead to 4-3. The Reds had runners at first and third with one out in the sixth when Votto hit a ball to center that DeJesus muffed. Soriano retrieved it, and threw out the runner at second, but a run scored to give the Reds a 5-3 lead.
"You want to limit the damage, especially with the middle part of that lineup," Samardzija said. "I'm more upset with the leadoff singles and leadoff walk. Those walks come back to haunt you, and I think a couple of them scored today. You want to get that first hitter out, and that's what they did a good job of today was to get me in the stretch early and make me stay there."
Schierholtz tripled again with one out in the sixth, his first career two triple game, and scored on Luis Valbuena's groundout to make it 5-4.
The eighth started badly for the Cubs, as Soriano was thrown out at second trying to stretch his leadoff single. Schierholtz walked and Valbuena singled, and, one out later, Darwin Barney singled to tie the game at 5.
In hockey, three players are honored post-game as the "stars." Samardzija picked the 'pen -- Carlos Villanueva, James Russell, Kevin Gregg, Carlos Marmol, Parker and rookie Hector Rondon, who earned his first Major League win after striking out four in two scoreless innings.
"To be in here and watch those guys pitch eight innings of scoreless baseball was outstanding," Samardzija said. "We've got a lot of confidence in those guys, and a lot of times it takes games like this and a little rhythm to get going and do what they have to do. They definitely get the nod for MVP of the game, for sure."
Carrie Muskat is a reporter for MLB.com. She writes a blog, Muskat Ramblings, and you can follow her on Twitter @CarrieMuskat. This story was not subject to the approval of Major League Baseball or its clubs.