Short-handed Rox drop rubber game to Nats
Short-handed Rox drop rubber game to Nats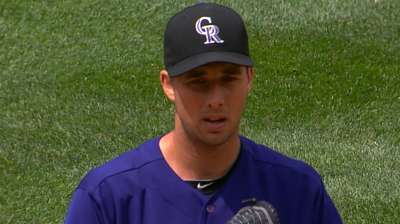 DENVER -- Rockies left-hander Jeff Francis couldn't revel in his good Thursday afternoon, not when seemingly everything else fell apart around him in a 5-4 loss to the Nationals at Coors Field in front of 37,017.
With his rotation spot being speculated about since poor results in his previous start, Francis pitched six innings and struck out eight -- his most in a game in five years -- while giving up just two runs.
But home runs and RBIs leader Carlos Gonzalez, leadoff man Dexter Fowler and leading hitter and slugger Troy Tulowitzki were injured -- and, it turned out, Tulowitzki is lost for four to six weeks with a broken rib on his right side.
Reliever Wilton Lopez replaced Francis with a 3-2 lead, but moved the tying run from second to home with back-to-back balks and was ejected along with pitching coach Jim Wright after the top of the seventh. Then, normally reliable reliever Matt Belisle gave up two runs.
In his last start, a loss to the Padres on Saturday, Francis gave up four runs and six hits while throwing 93 pitches in just four innings. It was his first start since coming off the disabled list with a groin injury. But with veteran former All-Star Roy Oswalt nearing readiness after a series of Minor League starts at Double-A Tulsa, Francis' future in the rotation is unclear.
Francis made a strong impression Thursday, but was disappointed after a strange and disappointing day.
"It's hard to be really happy when you don't win the game," Francis said.
"It was as good as I've seen his fastball as far as location and sequences with it," Rockies manager Walt Weiss said.
The Rockies, who began the day second in the National League West, dropped two of three to the Nationals and are 3-4 on the current 10-game homestand. They start a three-game series with the Phillies on Friday.
Tulowitzki was hurt diving for Ian Desmond's infield single in the eighth. The break was later revealed via an MRI. Gonzalez and Fowler were hurt in freak occurrences, but their outcomes weren't as serious. In both cases, with Gonzalez's left foot and Fowler's knuckle on his right ring finger, X-rays were negative and they're day to day.
Gonzalez, who leads the Rockies in home runs (18) and RBIs (52) was on deck in the bottom of the first when Jordan Pacheco's foul ball smashed off his left foot. Tyler Colvin, who replaced Gonzalez, delivered an RBI single off Ross Detweiler for a 1-0 lead in the first.
In the bottom of the third, Fowler attempted to bunt for a hit, but had to pull back to avoid Detwiler's inside pitch. But the ball hit Fowler's right hand, which was wrapped around the bat. Fowler was 1-for-1 with a first-inning double and is hitting .302.
The Rockies designated outfielder Eric Young Jr. for assignment on Wednesday, wanting to go with an extra pitcher, right-hander Chris Volstad. But now with Gonzalez and Fowler sore, and with Michael Cuddyer having just returned after missing five games with bruised ribs, Weiss said he will determine Friday whether the Rockies need to make roster moves.
"The breaks went our way," said Nationals reliever Craig Stammen, who pitched two scoreless innings. "Two balks, best players all got hurt -- that's kind of how last year went, it seemed like everything went our way."
Jonathan Herrera replaced Fowler and played left field for his second career outfield performance. Yorvit Torrealba, normally a catcher, batted for Tulowitzki in the eighth and finished the game by making his third career appearance at first base. Pacheco made his first career outfield appearance, in left field in the ninth, while Herrera moved to shortstop.
Even with the crazy occurrences, the day nearly went the Rockies' way.
The Rockies' Todd Helton delivered a two-out RBI single in the ninth off Rafael Soriano, who rebounded by forcing Herrera into a soft lineout to earn his 17th save.
Rockies reliever Rex Brothers pitched a perfect top of the ninth to run his scoreless streak to 28 outings, covering 26 1/3 innings.
Francis gave up a Ryan Zimmerman two-run homer in the third inning, but not much beyond that.
"I thought I commanded [the fastball] well, and threw more first-pitch strikes than I had been and it put me ahead in a lot more counts," said Francis, who lowered his ERA to 5.87. "I had a little more purpose with my curveball. Just throwing it helped me a lot, too.
"I struck out a few guys. I didn't know that it was more than I had in five years. I think you make some good pitches and you end up striking some guys out."
Thomas Harding is a reporter for MLB.com. Read his blog, Hardball in the Rockies, and follow him on Twitter @harding_at_mlb. This story was not subject to the approval of Major League Baseball or its clubs.