Castro back in No. 2 spot in Cubs' lineup
Castro back in No. 2 spot in Cubs' lineup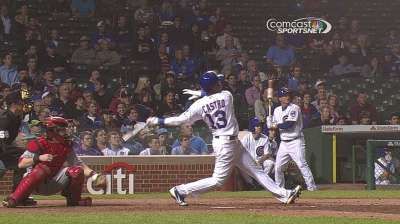 CHICAGO -- After eight games at the bottom of the order, Starlin Castro was back in the No. 2 spot in the Cubs' lineup on Thursday. He had a successful return, going 4-for-7 with a double and two runs in a 6-5 win over the Reds in 14 innings.
The shortstop was dropped from second to seventh on June 4, and was inserted in the No. 6 spot on Wednesday. He went 2-for-28 in the eight games. Castro was batting .254 in 49 games in the No. 2 hole.
"We dabbled with it a little bit, and obviously the offense isn't doing a whole lot with him down there," Cubs manager Dale Sveum said before Thursday's game. "It's just getting back to where we were. He's a guy who can swing the bat, and we have all the confidence in the world he can come out of it. You need him up there more than three or four times. Hopefully, he can get that fifth at-bat."
Castro isn't the only one scuffling. Entering Thursday, Anthony Rizzo was batting .248, Darwin Barney .203 and Luis Valbuena .238.
"There's nobody right now who's stepping up and doing anything in any position in the lineup," Sveum said. "Sometimes you get to the point where you might want to pick the lineup out of a hat and see what happens."
The Cubs were batting .158 in their last eight home games, and after Wednesday's game, Rizzo said the players aren't having fun.
"Offensively, especially, you try to make guys understand these things are in cycles and go in cycles," Sveum said. "You don't use things as excuses, but we've faced some pretty good pitching lately. You have to grind out the at-bats, and all of a sudden it starts coming."
Carrie Muskat is a reporter for MLB.com. She writes a blog, Muskat Ramblings, and you can follow her on Twitter @CarrieMuskat. This story was not subject to the approval of Major League Baseball or its clubs.