Zim powers Nats to victory in finale at Coors
Zim powers Nats to victory in finale at Coors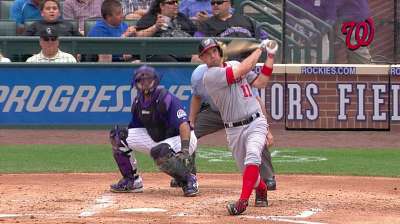 DENVER -- Their starting rotation expected to be back at full strength Sunday and All-Star outfielder Bryce Harper's return within sight, the Nationals breathed long-absent optimism into their season with a 5-4 win over the Rockies Thursday afternoon at Coors Field.
Washington took advantage of a Rockies' lineup that by the fifth inning was without two of its hottest bats -- Carlos Gonzalez and Dexter Fowler -- to grab its fourth win in five games. It gave the Nationals the series victory and pulled them to 5 1/2 games back of the Braves in the National League East.
The recent run injected enthusiasm into the clubhouse and brought back fond memories of 2012, when the Nationals posted a Major League-best 98 wins.
"We won two out of three here in Colorado, the breaks went our way," said reliever Craig Stammen, who pitched two scoreless innings. "Two balks, best players all got hurt -- that's kind of how last year went, it seemed like everything went our way. So, today was the first day of the season where it felt like things went our way -- timely hits, we got out of innings pitching-wise that were key and we ended up with a win."
The game knotted at 3 in the eighth, Ryan Zimmerman roped a double off Rockies reliever Matt Belisle that rattled around the right-field corner to score left fielder Roger Bernadina and make it 4-3 Nationals. Bernadina stretched a ball into shallow center for two bases, his headfirst slide barely beating out a throw from center fielder Tyler Colvin.
The Nationals have been consumed by injuries to key starters and vital offensive weapons this year, and Zimmerman echoed Stammen's encouraging words. It was just one victory, but one that represented the potential spark that allows a team to firmly re-ground itself as a contender.
"Things are going to continue to get better, hopefully," Zimmerman said. "I think it's pretty impossible for them to stay the way they have been the whole year."
The Nationals pushed the game-tying run across the plate in controversial fashion, after umpires called back-to-back balks on reliever Wilton Lopez in the seventh. Ian Desmond singled, then stole second before home-plate umpire James Hoye and second-base umpire Bob Davidson flagged Lopez after he made an illegal starting-and-stopping motion with his hands. Third-base umpire Jim Reynolds called the second one, which scored Desmond, for the same offense.
"You could say the first one was a balk, the second one I'm not too sure," Rockies manager Walt Weiss said. "I'm not sure if it was just a part of his pre-pitch routine or if they interpreted it as he started and stopped."
Lopez was tossed arguing with first-base umpire John Hirschbeck at the end of the inning, and Rockies pitching coach Jim Wright was also ousted. But Nationals manager Davey Johnson said Lopez actually got away with a third balk.
"He actually did it three times," Johnson said. "They only called it twice. It was very obvious."
"The umpires aren't going to call something like that to tie up a game unless it's obvious," Zimmerman said. "The umpires don't want to do that, they don't want to balk home a run."
Returning after nearly a month away due to an oblique injury, Nationals left-hander Ross Detwiler lasted five innings, surrendering six hits and three earned runs and striking out two before Stammen took over and pitched two scoreless innings.
The Nationals saved themselves the anxiety of taking a nail-biting one-run lead into the final two innings when Desmond -- who finished 4-for-4 and increased his hitting streak to 15 games -- hit an infield single to Troy Tulowitzki to score Zimmerman. Tulowitzki made the diving stop, but could not make the third out when he dropped the ball.
Tulowitzki appeared to aggravate a right rib injury on the play, adding to the Rockies' injury issues. He was sent for an MRI, the results of which are unknown.
Colorado starter Jeff Francis left with the lead after tossing six strong innings, striking out a season-high eight Nationals and allowing two earned runs.
The Nationals' offense showed life in the third when Zimmerman sent a two-out fastball from Francis into the left-field bleachers to put Washington up one. Detwiler was on base after he singled to start the inning, his first hit of the season.
"We've been battling," Johnson said. "Today was a better day for the offense. We're swinging the bats better."
Washington's early 2-1 lead held for just one inning, as the Rockies' two-run fourth barred Detwiler from the win. Colorado right fielder Michael Cuddyer -- back from a rib strain that sidelined him for five games -- smoked a double off the bottom of right-field wall in the fourth. Right fielder Jayson Werth tried to track down the ball before it bounced away from him, picking up his first error of the year as Cuddyer advanced to third.
Detwiler had to shake off some rust in the first inning. Fowler smacked a leadoff double into right field before Colvin -- playing in place of Gonzalez, who left with a left foot contusion after a foul ball struck him in the on-deck circle -- drove him in for a 1-0 lead.
"There's always just a little hesitation there, but I was just trying to go out there and attack it [the strike zone] as much as I could," Detwiler said. "We got through the first one, now hopefully we can relax and I can get back into the form I was in before."
Closer Rafael Soriano picked up his 17th save, allowing one run in the ninth.
Ian McCue is an associate reporter for MLB.com. This story was not subject to the approval of Major League Baseball or its clubs.