Outlasted: Yanks miss chances, fall in 18th inning
Outlasted: Yanks miss chances, fall in 18th inning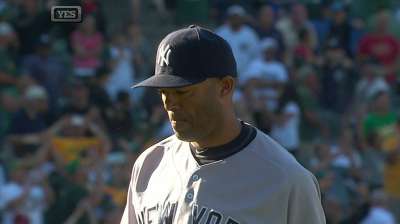 OAKLAND -- The Yankees' missed opportunities piled on top of each other, creating a stack of frustrating failures so high that it became laughable. And now it came to this, as Mariano Rivera jogged in from the bullpen to pitch in his first career 18th inning.
That was where it ended, as Rivera broke a pair of bats but served up Nate Freiman's walk-off RBI single, giving the Athletics a 3-2 victory and a series sweep and had the Yankees rushing for the exits of O.co Coliseum on Thursday.
"That's the game of baseball. Definitely, we don't want it to end like that," said Rivera, who made his final regular-season appearance at the Coliseum. "I know the boys battled hard and we had opportunities, but we couldn't capitalize. The balls just found holes."
The A's celebrated their 11th straight victory at home as John Jaso touched the plate with the deciding run, ending the Yankees' first 18-inning game since 1988 -- this 5-hour, 35-minute affair in which New York was 1-for-13 with runners in scoring position.
Rivera was summoned in relief of Preston Claiborne, who was charged with the loss. Robinson Cano's first-inning, two-run homer off starter Jarrod Parker stood as the Yanks' only offensive impact on an afternoon that saw them leave 14 men on base.
"We had two runs in the first, and that was it," Yankees manager Joe Girardi said. "We had a ton of opportunities and weren't able to cash in. It's frustrating, but you've got to turn the page."
The heart of the Yankees' lineup was a black hole. Mark Teixeira, Travis Hafner, Kevin Youkilis and Vernon Wells were a combined 0-for-28 with three walks and 12 strikeouts.
"The strikeouts -- they happen," Wells said. "There were some pitches I had to hit, and I just missed them. That's what happens, and then you go 0-for-8. It was a long day."
A's reliever Jesse Chavez picked up the victory with 5 2/3 innings of scoreless relief, striking out seven and silencing New York's bats after they had stranded runners in scoring position in the 11th, 12th, 13th and 14th innings.
"The last guy they threw was the best guy we faced all day. That guy is nasty," Teixeira said. "You give them a little credit. We didn't do our job, but give them credit as well."
Catcher Chris Stewart put his body on the line to keep the game tied in the 15th, as Brandon Moss attempted to score the winning run on Coco Crisp's pinch-hit flare to left field.
Wells charged the ball and fired a strong throw home to Stewart, who absorbed Moss' big hit and held on.
"As soon as I released it, it was kind of just slow motion," Wells said. "I was like, 'This is not going to end well for Stew.' He made a heck of a play. It takes a strong man to stand there with that big a guy coming down the line, coming after you."
Stewart said he was not dazed by Moss' hit, though he initially forgot how many outs there were and dashed for the dugout.
"It didn't feel as bad as it could have been," Stewart said. "[Moss] came up after and made sure I was all right. He wasn't trying to hurt me; he was just trying to get through me, and fortunately I was able to hold onto the ball."
Stewart's play preserved a strong relief outing for Adam Warren, who hurled six scoreless innings. It also served as a reminder of what might have been if a third-inning play with Stewart at the plate had gone differently.
Facing Yankees starter Hiroki Kuroda, Seth Smith smashed a double off the right-field wall, and Jaso was waved home. Cano's relay throw arrived in plenty of time, but Jaso was ruled safe by home-plate umpire CB Bucknor because Stewart applied a tag with an empty glove, holding the ball in his bare right hand.
"I thought I tagged him with both, but he said he saw the ball outside the glove when I was tagging him, so he called him safe," Stewart said.
Kuroda pitched lights out from there, retiring the final 16 batters he faced in a terrific outing that saw him permit just two hits over eight innings.
"I was able to pitch down and get a lot of groundouts," said Kuroda, who lauded the work of his bullpen by adding, "They were incredible. They were really resilient throughout the whole game. We were almost there."
Because of the taxing nature of the game, Girardi said that he expects to need to make at least one roster move before Friday's game against the Angels. Warren and Claiborne seem to be the likeliest candidates to be shuffled out.
The defeat marked the Yankees' seventh straight loss at the Coliseum, which is their longest losing streak in Oakland since dropping 10 straight from Sept. 9, 1989 to May 1, 1990.
"To go this far and you end up losing the game, it [stinks]," Stewart said. "But it's going to give us motivation going into tomorrow. Hopefully we come out early and score some runs in the first inning tomorrow and we don't have to worry about this."
Bryan Hoch is a reporter for MLB.com. Follow him on Twitter @bryanhoch and read his MLBlog, Bombers Beat. This story was not subject to the approval of Major League Baseball or its clubs.