No help for terrific Harvey as Mets drop duel, series
No help for terrific Harvey as Mets drop duel, series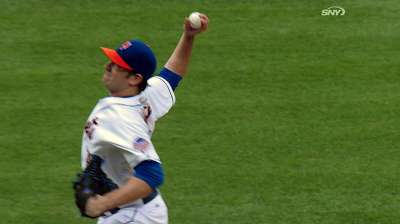 NEW YORK -- Shortly after the Mets fell to the Cardinals, 2-1, on Thursday, manager Terry Collins approached the previously-undefeated Matt Harvey for a chat. It was part pep talk, part pat on the back -- a gesture designed to ensure Harvey was processing this latest bout of adversity in a healthy manner.
"When you've pitched as well as he has and are just unable to win some games," Collins said, "it can be a little frustrating."
Consider Thursday as Exhibit A. Despite allowing only one run in seven innings, Harvey (5-1) finally dropped from the ranks of the undefeated, suffering his first loss since last Sept. 12 while snapping his franchise-record streak of 13 unbeaten starts to open the season.
In Harvey's six career defeats, the Mets have scored a total of seven runs, including three when he has actually been in the game.
"The wins and losses don't mean anything to me personally," Harvey said. "It's just a matter of the team winning. Today I didn't do my job and put up zeros, and got the loss."
By most definitions, Harvey actually did his job quite well. Locked in a pitchers' duel early, Harvey and Adam Wainwright traded perfect innings until Pete Kozma lashed a clean single to right field with one out in the third. After Wainwright sacrificed Kozma to second, Matt Carpenter hit a line drive to right-center field, where Marlon Byrd came up short in his diving attempt to snag it. That allowed the ball to roll toward the fence for an RBI triple.
It was all the offense the Cardinals could muster against Harvey, who struck out seven, walked one and allowed five hits. But it was enough.
St. Louis plated an insurance run on Allen Craig's RBI single off LaTroy Hawkins in the eighth, causing Byrd's solo homer in the ninth to go for naught. Despite putting the tying run in scoring position with one out, the Mets could not complete their comeback against Cardinals closer Edward Mujica.
"You guys know me, I don't like to lose," Harvey said. "Today I needed to go out and put up zeros and I wasn't able to do that. If I go seven zeros, then we're still playing the ballgame and have a better chance of winning. Obviously, I'm not happy about losing. I don't like losing even if I don't pitch."
But in a battle of two of the National League's top pitchers, somebody had to lose. And it wasn't going to be Wainwright. Mowing down 11 in a row to open the game, the Cards' ace faced his most significant trouble in the fourth, putting two men on base with two outs. Lucas Duda then drove a ball to the warning track in center field, where Jon Jay snagged it to end the threat.
Lasting three more innings, Wainwright stranded another two runners on base in the seventh. He allowed four hits in total -- two of them to David Wright, who finished 3-for-4 -- and struck out six. And he did it all with a razor-thin margin for error, considering how well Harvey was pitching.
"You can't deny what you're watching … two very talented guys with two different styles," Cardinals manager Mike Matheny said. "Harvey, we saw enough of him in Spring Training to know we didn't want to see him too many more times. And today he proved that to be true. It's a game like this where the little things make the big difference."
Harvey came into the game as one of five starting pitchers with at least four wins and an undefeated record, joining Boston's Clay Buchholz (9-0), Arizona's Patrick Corbin (9-0), Detroit's Max Scherzer (9-0) and Cincinnati's Mat Latos (6-0). The second-year Mets starter is now 5-1 with eight no-decisions.
In many ways, it was difficult to believe Harvey had lasted this long without a loss -- though not through any fault of his own. Unlike Corbin, Latos and Wainwright, who all rank in the top five in run support amongst NL pitchers, Harvey sits 30th in that category. The Mets have averaged barely more than four runs per game in his starts, resulting in all those no-decisions and a fair bit of heartache.
That is why Collins approached Harvey after the game to deliver a message that his young ace had heard before: Chin up, kid. Better days are ahead.
"I've told him, 'Just keep doing what you're doing,'" Wright said. "He very easily could have 10 or 11 wins right now with the way that he's throwing. I'm sure he's frustrated and wants to win. But the bottom line is if he keeps giving us that type of effort, hopefully we can start to score some runs for him and get him some wins."
Anthony DiComo is a reporter for MLB.com. Follow him on Twitter @AnthonyDicomo. This story was not subject to the approval of Major League Baseball or its clubs.