Closer look: End of games aren't what they used to be
Closer look: End of games aren't what they used to be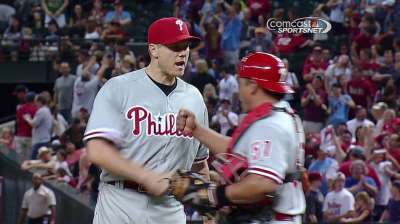 On the evening of May 11, with the Phillies playing the D-backs at Chase Field, Jonathan Papelbon recorded five outs to earn his sixth save of the season. And that provided two nights' worth of fodder for the announcers. In real time, would Phils manager Charlie Manuel actually go to his closer in the eighth? The next night, would Papelbon be available if needed?
Yes, it's a big deal these days when a closer is asked to do more than come in to start the ninth inning and protect a lead. It's rare enough that when it happens, it attracts notice.
That's not news, of course. Most people realize that once upon a time, closers routinely went three innings or more to finish up a game and preserve a win. And it stands to reason that modern relievers, armed with all the cutting edge conditioning techniques, could train themselves both mentally and physically to throw multiple innings if they set their minds to it.
Here's the question, though: Would teams be better off -- would their chance to win increase -- if baseball turned back the clock and started utilizing closers the way Rich Gossage, Rollie Fingers, Bruce Sutter and Mike Marshall were used?
Some of the numbers put up in that era now seem hard to believe. While winning the National League Cy Young Award for the Dodgers in 1974, Marshall appeared in 106 games, finishing 83 of them, amassing 208 1/3 innings pitched. And if he didn't get in a game for a day or two, he'd pitch batting practice to stay sharp.
In Gossage's career, he had 53 saves of seven outs or more. In fact, of his 310 career saves, he had more that were at least two innings than those of an inning or less. Fingers had more saves of more than one inning (201) than any pitcher in history. Sutter made 70 appearances in 1982, and 47 of them were for more than one inning. All three have been inducted into the Hall of Fame, by the way.
Gossage, working as a special Spring Training instructor for the Yankees this year, made the point that it's impossible to compare the numbers from then and now. Asked about Yanks great Mariano Rivera, who at the time had 608 career saves, Goose emphasized that he had nothing but respect for the pitcher many consider the greatest closer ever.
"It takes three guys now to do what we used to do," Gossage told reporters. "Believe me, I do not want to take anything away from this guy. This guy is right up there. But had we been used like that, hard telling what [our] statistics would be. They'd be right there. We were dominant in that role for three innings.
"I believe had Mo been used like us, he might have 350 saves. I would throw out the challenge of, do what we did, and we'll compare apples to apples. Could they have withstood the workload? I guarantee the numbers wouldn't be what the numbers are. It's impossible statistically to do it."
"There's no way in the world you can compare relief pitching with the era that I pitched in, or Bruce Sutter or Goose Gossage, because we were three-inning pitchers," Fingers told the Chicago Tribune.
And that's not all. Today, relievers most often start the inning without runners on base. Gossage made 965 relief appearances, and in more than half (509), he entered with at least one runner on base. In all, he had to deal with 832 inherited runners.
On the surface, there would seem to be some advantages in having a reliever who can take the ball in the seventh inning and close out the game or come into a tie game in the eighth or ninth and pitch deep into extra innings if needed. After all, sometimes the pivotal inning comes earlier than the ninth.
Plus, having a closer who can fill multiple innings could allow a team to carry fewer pitchers; especially in the NL, having an extra bat or two off the bench could be advantageous. But the idea that the closer should be limited to one inning has become an accepted part of the game.
"It's all the way down the line," Sutter told the St. Louis Post-Dispatch last year. "All the way down to the summer leagues, all the way down to kids who are 14 years old. I don't know how it all started. I don't know why. I guess it's pitch counts. The closer [is only supposed to go] one inning and not too many days in a row. But where's the proof? Is it making these guys pitch later into their late 30s? Or are there no injuries? I don't see it. I'm old school. The guy at the end of the game is really valuable. If you have him pitch one inning, a lot of times, you don't even get the ball to him."
But there has to be a reason why baseball evolved as it has. And Tony La Russa probably explained it best, explaining why he started limiting closer Dennis Eckersley when both were in Oakland, beginning in the late 1980s and into the mid-'90s.
"[We'd] be ahead a large number of games every week. That's a lot of work for somebody throwing more than one inning," La Russa once said, adding that it also kept opposing hitters from seeing so much of Eckersley that they might start to feel more comfortable facing him.
Heck, even Gossage isn't suggesting that teams should revert to the old way of doing business.
"I believe today is the way they should be used," Gossage said.
By the way, Papelbon did pitch the next night for the Phillies. And he got another save.
Paul Hagen is a reporter for MLB.com. This story was not subject to the approval of Major League Baseball or its clubs.