Spirited effort in 12th inning comes up short
Spirited effort in 12th inning comes up short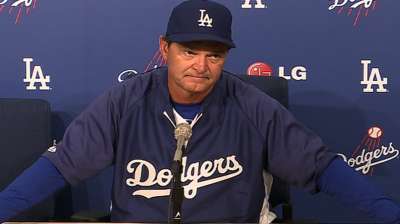 LOS ANGELES -- Whatever emotional buzz the last-place Dodgers got from their brawling win Tuesday night came to a familiar crash and burn Wednesday night, when they lost to the first-place D-backs in 12 innings, 8-6.
There was no repeat of Tuesday night's headhunting, the tone set when managers Don Mattingly and Kirk Gibson had a civil exchange of the lineup cards before the game. But the Dodgers again are 8 1/2 games out of first place, bad news considering no Dodgers club has ever trailed by more than 7 1/2 and finished first.
Already shorthanded with Hanley Ramirez missing his seventh consecutive start (expected back for the next game on Friday, but we've heard that before), the Dodgers were further handicapped when it was revealed that Yasiel Puig and Luis Cruz were TKO'd in the brawl: Puig with a strained right shoulder from fighting, Cruz with a thigh cramp suffered when he tried to restrain teammate Ronald Belisario.
"That didn't work," Cruz said of his role as mediator.
Puig eventually appeared in the 12th inning, looking pretty healthy while throwing a trademark strike to the plate from right field to hold a runner at third, then singling. Cruz also came on as a pinch-runner.
Afterward, Puig ran his streak of not speaking to reporters to two games. So details on the cause and extent of his injury were left to the imagination.
Now, Puig in particular and the Dodgers in general, brace for disciplinary action to be levied Thursday by the Commissioner's Office over the brawl, with a half-dozen Dodgers or more under review for their actions.
One of them is Belisario, cited by the umpires Tuesday as "out of control" and who added this loss to his ledger, as if he needed any more bad news. In five June appearances, he has allowed eight runs in 4 1/3 innings, his ERA soaring from 3.04 to 4.94. For the second time in a week, he threw his glove and overturned some supplies in a dugout tantrum.
Three of Belisario's runs scored with former closer Brandon League on the mound. Earlier in the game, Chris Withrow made his Major League debut and hit 99 mph with his fastball while getting two quick outs, then couldn't finish off his inning.
"That was just bad luck," Mattingly said of Withrow, whose problems started with an infield single. "If he can stay healthy, with that power arm, he could really help us. I felt like he was really good, his stuff is really good."
New closer Kenley Jansen extended his scoreless streak to 11 2/3 innings. Lefties Paco Rodriguez and J.P. Howell each pitched 1 1/3 scoreless innings.
The Dodgers made one last gasp offensively against D-Backs closer Heath Bell after the implosion by Belisario and League.
Ramon Hernandez led off the bottom of the 12th with his third homer. Puig singled, Skip Schumaker walked, Puig scored on a pair of groundouts and Adrian Gonzalez walked. Pinch-hitter Tim Federowicz, Tuesday night's hero and now representing the winning run, ended the game with a groundout.
Arizona was led by former Dodger Cody Ross and Miguel Montero, each with four-hit nights in a 20-hit D-Backs attack. Eleven of the hits came off Dodgers starter Hyun-Jin Ryu in only six innings, and he would have been charged with more than three runs except for four double plays turned behind him.
"My fastball was coming over the center off the plate all game, and my velocity really wasn't there," said Ryu. "But I think that's because for the first time in a while I went off of four days' rest."
After Ryu dug a 3-0 hole, the Dodgers rallied with a four-run fifth inning off unbeaten Arizona starter Patrick Corbin that included an RBI triple by Ryu (first for a Dodgers pitcher since Jeff Weaver in 2004) that was misjudged by right fielder Gerardo Parra and doubles from Juan Uribe and Alex Castellanos (who was starting for Puig). With Puig scratched, Mattingly made Jerry Hairston the eighth hitter to be used in the cleanup spot this year.
Arizona now is 7-2 against the Dodgers this year with four consecutive series wins. The D-backs now are 13-0 in games started by Corbin.
Ken Gurnick is a reporter for MLB.com. This story was not subject to the approval of Major League Baseball or its clubs.