D-backs prevail with wild 12th inning in LA
D-backs prevail with wild 12th inning in LA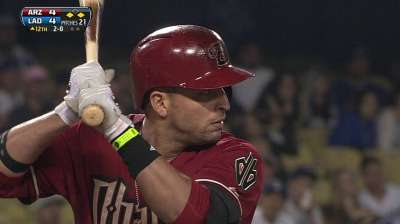 LOS ANGELES -- The two managers met at home plate before the game to exchange lineup cards, but more than that, Dodgers manager Don Mattingly and D-backs manager Kirk Gibson seemed to come to an understanding that the time for fighting had passed and it was now time for baseball.
Then the two teams went out and battled for 12 innings before the D-backs managed to win, 8-6, and claim the three-game series.
Wednesday was a hard-fought baseball game, while Tuesday featured an ugly brawl that resulted in six ejections and suspensions that are surely forthcoming.
"We had a good conversation," Gibson said of his exchange with Mattingly. "It was good. We all know that was very intense last night, little bit ugly, it's not something we want to do. It happens from time to time in the game and you move on. Both teams moved on and we played against each other. It was good. I appreciated it."
After the D-backs tied the game at 4 with a run in the seventh inning, neither team managed to push another run across until the 12th.
Cody Ross started off the decisive inning with a double off Ronald Belisario, who before batting practice had warned that the Dodgers did not consider the incident from one night earlier to be a closed matter.
Miguel Montero then beat out an infield hit and Martin Prado followed with a ground-rule double over left fielder Jerry Hairston's head to score Ross and give Arizona a 5-4 lead.
The Dodgers intentionally walked Didi Gregorius to load the bases and Don Mattingly brought in Brandon League, who promptly gave up an RBI single to Cliff Pennington and two outs later Gerardo Parra added a two-run single to put the D-backs on top 8-4.
"The guys weren't satisfied with one run, they went out and got a bunch of runs," closer Heath Bell said.
It's a good thing they did, too, since Bell had a little trouble shutting things down in the bottom of the 12th, as the Dodgers managed to score two runs and had the winning run at the plate with two outs before Tim Federowicz grounded into a game-ending fielder's choice.
"I think yesterday the game got away from us," Bell said of the 5-3 loss following the brawl. "We had a chance to win and we didn't shut it down and it was just nice to get some runs. The Dodgers came back, they weren't going to let up. I think [the win] just means a lot because they tied it up and we just kept plugging along and we just went into extra innings and we just kept fighting and fighting."
The D-backs pounded out 20 hits in the game, 17 of which were singles including the first 14 of the game.
And despite missing several scoring opportunities against Hyun-Jin Ryu through the first three innings, the D-backs grabbed a 3-0 lead in the fourth.
Ross, Montero, Prado and Gregorius each collected singles to start the inning with Prado and Gregorius each driving home a run, and the final run of the frame scored when Pennington grounded into a double play.
"I just regret giving up three runs in that one inning," Ryu said. "Even if it was just one or two runs, I'm sure the outcome of the game would be very different."
That's usually enough of a cushion for Patrick Corbin, who was trying to become the Majors first 10-game winner, but instead things unraveled for him in the fifth.
Juan Uribe led off the inning with a double, but Corbin quickly retired the next two hitters as Uribe scored.
Before Corbin could get the third out, Alex Castellanos hit a ground-rule double and Ryu followed by hitting a sinking line drive to right. Parra charged in and attempted to make a sliding catch, but the ball skipped by him and rolled all the way to the wall, allowing Castellanos to score and Ryu to reach third.
The Dodgers then put together three consecutive singles to score two more runs and grab a 4-3 advantage.
"They were just putting together some good swings," Corbin said. "I didn't think I was really missing my spots other than I left the changeup up for the double. Other than that I felt all right. They were just putting some good swings and it was just one of those things where it just seemed like any pitch I threw they were getting a hit."
The D-backs managed to tie the score in the seventh, putting together three straight two-out hits off Chris Withrow with Montero's bloop single to left scoring Paul Goldschmidt.
Steve Gilbert is a reporter for MLB.com. Read his blog, Inside the D-backs, and follow him on Twitter @SteveGilbertMLB. This story was not subject to the approval of Major League Baseball or its clubs.