Bonderman deals gem but Mariners fall late
Bonderman deals gem but Mariners fall late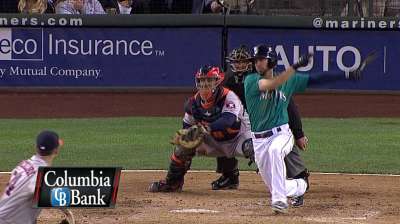 SEATTLE -- Jeremy Bonderman continued his Major League comeback with a second straight impressive start Wednesday, but the Astros rallied off closer Tom Wilhelmsen to pull out a 6-1 win that snapped their six-game losing streak.
Bonderman, coming back from a two-year layoff with elbow and shoulder problems, threw eight scoreless innings while allowing just three hits with two walks and five strikeouts.
But after Seattle broke a scoreless tie in the bottom of the eighth with an RBI single by rookie Nick Franklin, Wilhelmsen couldn't seal the deal and the Mariners' closer situation grew more unsettled after he was charged with five runs while getting just one out.
"Tom Wilhelmsen is still our closer, standing here right now," manager Eric Wedge said after Wilhelmsen blew his fourth save in his last nine opportunities. "The game just got over. Anything we do would involve a lot of conversation and we'll make sure we do the right things for the right reasons for this club and every individual on this club."
Wilhelmsen gave up two singles before the Astros sacrificed those two runners into scoring position. The Mariners then intentionally walked Carlos Pena to set up a potential double play, but Chris Carter laced a two-run double.
Wedge then had Wilhelmsen reload the bases with another intentional walk before bringing in Yoervis Medina. The rookie right-hander got one out but gave up two bases-loaded singles that scored the three runners he inherited from Wilhelmsen before Charlie Furbush came in and walked in another run.
"He was just up today," Wedge said. "We got the out at first base with the bunt, then you've got to get the ball on the ground there with the double-play candidate and the game's over. But he left another pitch up and they hit it pretty good.
"The ninth inning is a different animal. You saw that. The next two guys struggled, too. We just have to get Tom driving the ball downstairs, missing down when he does miss. We'll work on it."
Wilhelmsen ripped off 11 straight saves in dominant fashion to start the year, but has struggled since. Though he'd saved four in a row going into Wednesday's outing, he allowed runs in two of those games and baserunners in all four.
And whatever progress had been made seemed to go out the window in a hurry against the Astros in what Wilhelmsen described as a "merry-go-round" in the ninth.
The Mariners finished their homestand with a 5-5 mark and are 29-38 overall heading to Oakland and Anaheim for a seven-game road swing starting Friday.
After a rough debut against the Twins earlier this month, Bonderman gave up just three hits and one run over six innings in his previous outing against the Yankees to record his first Major League win since Sept. 8, 2010 while with the Tigers.
He backed that up against the Astros while extending his scoreless streak to 13 innings since a first-inning run by the Yankees. The no-decision left Bonderman at 1-1 with a 3.86 ERA.
Though Bonderman had thrown only 89 pitches, Wedge said with his history of arm issues, the choice to go to his closer in the ninth was an easy decision. And Bonderman wasn't about to second-guess that move.
'"I felt good, but it's not my call to make," Bonderman said. "Tom is one of the best in the game. I don't have any problem with that move at all. Ninety-nine percent of the time, he's probably going to seal that down. It's part of the game. You take whatever happens. This game is never easy."
With sluggers Kendrys Morales and Michael Morse both sidelined by injuries, the Mariners offense didn't provide much support for Bonderman, however. Franklin hit fifth and went 3-for-4 with a double, but the rest of the lineup couldn't make much headway against Astros right-hander Jordan Lyles as Seattle finished with just five hits.
Lyles, 22, recorded a career-high 10 strikeouts while giving up just three hits in seven scoreless innings.
The Mariners loaded the bases with one out in the fourth -- helped by rookie catcher Mike Zunino's first career hit -- but came up empty when Lyles struck out Brendan Ryan and Alex Liddi to keep the game scoreless.
Franklin doubled with one out in that frame and Zunino laced a single up the middle, but the ball was hit so sharply that Franklin had to be held at third. Michael Saunders then drew a walk before Lyles escaped the jam.
Zunino, getting his first start behind the plate after being called up Tuesday, went 1-for-4 and seemed to work well with Bonderman, who he caught in Triple-A Tacoma before both were added to the Major League roster this month.
"It was really exciting," said Zunino. "You just want to jump in there and get your feet wet and play. But we came out on the wrong end of it and no matter where you're playing, it's tough to lose. It's one of those things where it was a great experience, I had a blast and I'm looking forward to making more strides with this team."
Zunino threw out Marwin Gonzalez trying to steal second after the Astros shortstop singled with one out in the eighth against Bonderman.
Greg Johns is a reporter for MLB.com. Follow him on Twitter @GregJohnsMLB as well as his Mariners Musings blog. This story was not subject to the approval of Major League Baseball or its clubs.