First-round pick Peterson takes BP at Safeco Field
First-round pick Peterson takes BP at Safeco Field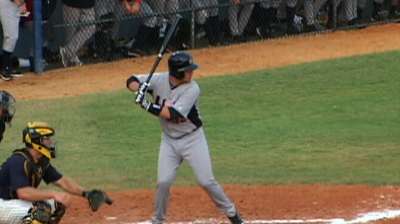 SEATTLE -- First-round Draft pick DJ Peterson, a third baseman out of New Mexico, took batting practice with the Mariners on Wednesday after agreeing to a contract as the 12th overall pick.
The Mariners announced the signing of Peterson and 12 other picks, including outfielder Tyler O'Neill (third round), infielder Jack Reinheimer (fifth), outfielder Corey Simpson (sixth), left-handed pitchers Tyler Olson (seventh) and Jacob Zokan (ninth) and right-hander Emilio Pagan (10th).
Also signing were infielders Justin Seager (12th) and Jeff Zimmerman (19th), right-handed pitchers Kevin McCoy (24th) and Ricky Claudio (27th), outfielder Chantz Mack (29th) and right-hander Rafael Pineda (30th).
"This is what you dream of as a little kid, hitting BP on the big field," Peterson said. "I've got some work to do to get up here and be with these guys on an everyday basis. But right now I'm just embracing this. This is awesome. My family is loving it. So it was fun, a lot of fun."
Peterson said he'll be reporting to Class A Everett after telling his agents he wanted to get started as quickly as possible. Reinheimer, Olson and Seager also will report to Everett, while the others are headed to Rookie League teams in Pulaski and Peoria.
"I want to play pro ball and want to get on the fast track and get my career started," he said. "I'm ready to get after it and play. I've got two weeks off and now I'm ready."
Peterson hit mostly line drives in his batting practice session, sending a few over the fence at spacious Safeco Field.
"I'm a pretty honest guy. I was really nervous," he said. "But after the first round, I felt good. The nerves kind of went away and I let it go a little bit. … I just try to get good wood on them, make good contact and just try to have fun and enjoy the opportunity I have right now."
Peterson said third baseman Kyle Seager loaned him his batting gloves and fielding glove and he borrowed a bat from rookie second baseman Nick Franklin.
"They could say, 'Here's this punk kid, he's a first rounder and probably has some good ego.' But they welcomed me in with open arms," he said. "It's been awesome. I truly respect all these guys and can't believe how nice they are to me. 'You want to swing my bat? Hey, you want to use my gloves?' It's not what I expected, but it's awesome. I couldn't ask for a better atmosphere."
Greg Johns is a reporter for MLB.com. Follow him on Twitter @GregJohnsMLB as well as his Mariners Musings blog. This story was not subject to the approval of Major League Baseball or its clubs.