Zito, Giants can't hold off hit-happy Pirates
Zito, Giants can't hold off hit-happy Pirates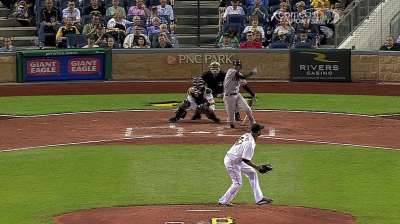 PITTSBURGH -- Barry Zito's road ERA didn't get any better Wednesday. Neither did the Giants.
A lull can be expected while San Francisco tries to survive without Marco Scutaro, Pablo Sandoval and Angel Pagan. Yet pitchers can still excel despite the absence of their club's top regulars, and this didn't happen as the Pittsburgh Pirates thrashed the Giants, 12-8.
Zito's troubles on the road persisted as he worked 4 2/3 innings and yielded eight runs and 11 hits. Neither was a season high. That says something about his previous struggles away from home, where his ERA rose from 10.19 to 11.28. The contrast between that number and his home ERA of 1.94 is nothing short of stunning.
But the left-hander denied feeling any different whether he's pitching by San Francisco Bay or elsewhere.
"I don't think there's like a 'on the road, this, and at home, that,'" Zito said. "It probably doesn't look like it, but I think it's more just a coincidence. ... I've felt pretty good in some of these starts on the road and it hasn't worked out."
Zito's road performance is consistent with the team's. San Francisco has lost 13 of its last 17 games away from AT&T Park. By comparison, the Giants' 46-35 road record last year seems like a monumental feat.
Had a key fifth-inning play developed differently, Zito's evening might have been more pleasant.
With the bases loaded, one out and the score tied, 4-4, Pittsburgh's Russell Martin hit what apparently was a sharp grounder to first baseman Brandon Belt, who threw to second base for a forceout. But Zito didn't cover first base to take shortstop Brandon Crawford's return throw, enabling Starling Marte to score one of his four runs.
Pedro Alvarez's RBI double finished Zito before Jose Mijares yielded Neil Walker's two-run single.
Had the Giants turned a double play on Martin's ball, zero runs would have scored. But the ball Martin hit was difficult to follow while watching it live and even on television replay. The man who was in the middle of the event said so himself.
"I have no idea," Belt said when asked if he caught the ball on the fly. "It was a weird situation. The runner [Gaby Sanchez] was right there in front of me. The ball was hit hard. It was moving so fast, I was falling back away from the ball. ... I just knew I caught it cleanly, square in my glove. I thought I caught the ball. The guy at first was running back to first base like I caught the ball. If I had known it was hit on the ground, I would have definitely [thrown] home right there."
Zito was just as confused as the operator of PNC Park's scoreboard, which briefly registered three outs.
"The reason I didn't cover first right there is because I thought it was in [Belt's] glove [on the fly]," Zito said, noting that Sanchez might have partially blocked his view.
The Giants mustered pairs of runs in the seventh and eighth innings. Tony Abreu, Scutaro's replacement who collected a team-high three hits, scored in each inning on his way to a career-best three runs. But Ramon Ramirez surrendered three runs in the sixth and seventh innings, sealing the Giants' ninth loss in 14 games.
"I was really pleased with the offense," said bench coach Ron Wotus, who filled the interim manager's role while Bruce Bochy served his mandatory one-game suspension resulting from George Kontos' plunking of Andrew McCutchen on Tuesday. "The guys didn't quit."
Pittsburgh manager Clint Hurdle noticed.
"It was a night that every run counted and they always do," he said. "We were able to continue to add on. When you're playing a team that's won two world championships in the last three years, there's no quit in them, regardless of who takes the field or who's pitching."
Once upon a time, this defeat would have stung worse for the Giants. They were beaten by Francisco Liriano, who was part of the ill-fated A.J. Pierzynski trade with Minnesota in the 2003-04 offseason. Liriano made the Giants look bad by finishing 12-3 with a 2.16 ERA for the Twins in 2006. But guys named Cain, Lincecum and Bumgarner took the sting out of losing Liriano, whose career has been injury-marred. The left-hander allowed four runs and eight hits in six innings in his first career appearance against the organization that brought him into pro ball.
Chris Haft is a reporter for MLB.com. This story was not subject to the approval of Major League Baseball or its clubs.