Morales, Morse still hampered by injuries
Morales, Morse still hampered by injuries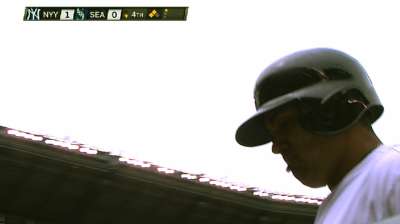 SEATTLE -- First baseman Kendrys Morales and right fielder Michael Morse both sat out Wednesday night's series finale with the Astros as minor injuries continued to limit the two Mariners veterans who are supposed to anchor the middle of the lineup.
Morales missed his second straight game due to stiffness in his lower back, while Morse was given the day off to rest a strained right quadriceps muscle that has hampered him the past two weeks.
Manager Eric Wedge is hoping the day off, combined with Thursday's travel day to Oakland, will help get both players back on track to be ready when a seven-game road swing begins Friday against the A's.
Morales has had to play extensively at first base instead of designated hitter the past few weeks while Justin Smoak has been on the disabled list with a strained oblique and that has likely contributed to his sore back, Wedge said.
"He's not ready to play," Wedge said. "We were hoping to DH him, but I knew first base wasn't going to be an option. We had Morse planned as an off-day all along. He needs it so we can couple that with [Thursday's day off]. We're a little thin, but other guys need to step up. That's what has to happen."
Thursday will be the club's first off-day after a string of 20 straight games and Wedge said the stretch has worn on his team after a tough first two months.
"We've got a lot of guys that are dinged up right and it's probably for the fact we've had to run them out there," he said. "We've been thin and we've had guys that are limited, so we haven't been able to get guys days off over the course of this 20 like you'd like to see. It's just been such a grind. I've never been part of a grind like this for the first two and a half months.
"These players have really been up against it. And you know what, they don't complain. They show up ready to play, they understand responsibility. It'll come back to us, the toughness they've shown here."
Greg Johns is a reporter for MLB.com. Follow him on Twitter @GregJohnsMLB as well as his Mariners Musings blog. This story was not subject to the approval of Major League Baseball or its clubs.