Figaro brilliant on mound and at plate in win
Figaro brilliant on mound and at plate in win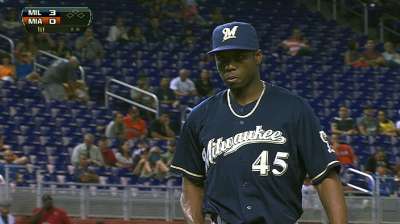 MIAMI -- Strong starting pitching and timely hitting helped the Brewers take Wednesday's series-deciding game against the Marlins.
Milwaukee scored early and often, and starter Alfredo Figaro was brilliant as the Brewers beat the Marlins, 10-1, before 13,468 fans at Marlins Park.
"Figgy was real good today," Brewers manager Ron Roenicke said. "The fastball command was there, and the off-speed pitches were over the plate. Offensively, everybody was swinging the bat well."
Jonathan Lucroy's bases-loaded triple in the first inning gave the Brewers an early three-run advantage. The triple extended the club's triples streak to six games and gave Milwaukee runs in the opening frame for the second time this series.
"It's a matter of having big at-bats," Lucroy said. "When guys get on base in front of you, it's a matter of hitting the ball hard somewhere and getting those runs. I guess that was kind of a turning point for us and opened the gates with us scoring some runs to get the momentum going our way."
The three-run lead would be all the run support Figaro would need on the way to his first win since 2009. After allowing a first-inning single to Ed Lucas, the right-hander retired 17 consecutive batters before Lucas delivered a leadoff single in the seventh. Figaro, who had two hits on the night, held the Marlins to three hits over a career-high seven scoreless innings.
"That made a big difference, because when you have a three-run lead you feel more free," Figaro said. "If you give up one run, you still have a lead, so you can just go out there and pitch and not worry. That was a key in this game."
While Figaro cruised on the mound, shortstop Jean Segura continued the Brew Crew's success against Marlins starter Kevin Slowey. The rookie opened the third inning with a solo homer to left that extended his hitting streak to a career-high nine games. Milwaukee added a fifth run an inning later on a Norichika Aoki sacrifice fly that drove home Scooter Gennett.
Lucroy picked up his fourth RBI of the game in the top of the fifth, driving home Carlos Gomez with a sacrifice fly to center. That closed the book on Slowey, who allowed six runs (five earned) on nine hits over five innings, but it did not signal the end for the Brewers' offense.
"We asked him to do a lot after throwing eight innings in New York and come back on three days' rest," Marlins manager Mike Redmond said of Slowey. "But testament to him, he gave us everything he had. He just didn't have as good of command but still ended up going out there and giving us five innings."
Milwaukee put up four runs in the sixth when Gomez hit his second triple of the game. The speedy outfielder came up with the bases loaded against Marlins reliever Edgar Olmos and crushed a fastball to the right-field wall to clear the bases. Gomez then scored when Marlins second baseman Derek Dietrich's relay throw to third bounced into the stands, forcing Gomez home.
"He's put together quite a season so far," Roenicke said of Gomez. "I had to move him in the third spot with [Ryan] Braun out, and he continues to have good at-bats. He will get down in two strikes, and next thing I know he is going the other way. That's what good hitters do. He's been impressive."
Gomez, who tied Segura for the Major League lead in triples, finished with four hits for the eighth time in his career. The 27-year-old believes the Brewers are starting to consistently play up to their capabilities.
"We are missing some big bats in the lineup, but we have been doing a good job for the last week and a half," Gomez said. "We've been doing good, and the starting pitching has been awesome. We are playing like the team we think we are."
David Villavicencio is a contributor to MLB.com. This story was not subject to the approval of Major League Baseball or its clubs.