A's sit ailing Cespedes, Crisp
A's sit ailing Cespedes, Crisp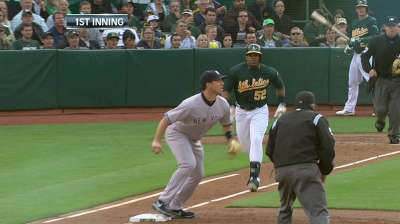 OAKLAND -- The A's series-opening victory over the Yankees on Tuesday night didn't come without cost.
Yoenis Cespedes was replaced in left field by Seth Smith to start the third inning for "precautionary measures" after tweaking his left hamstring trying to beat out a ground ball in the first inning. Leadoff man Coco Crisp was also seen hobbling to first base in subsequent at-bats with an apparent heel injury after starting the game with a solo shot off CC Sabathia.
Both were out of manager Bob Melvin's lineup to start Wednesday night's game against the Yankees. Seth Smith got the start in left field, while Chris Young started in center. Melvin said both Cespedes and Crisp were available to pinch-hit.
"We always feel confident with whomever we run out there," Melvin said. "Obviously the results would suggest that we do very well when they're both in there."
The A's are 27-8 (.771) with both Cespedes and Crisp in the starting lineup, 12-19 (.387) without.
Cespedes leads the A's with 13 home runs and is the only member of the team with double-digit dingers. His 35 RBIs rank second on the team behind Josh Donaldson. Crisp paces the A's with 29 walks, 13 steals and owns the team's third-best batting average at .289.
"But again, we have to try and keep them healthy, too," Melvin said. "Even if it is a day or so, if you give them an extra day, you really want to make sure they're not playing on something that's bothering them for an extended period of time because both of them have to use their legs with what they do. You don't want to put them in a position where something else happens and then they're on the DL."
Melvin added that "there's a chance" both could sit out the rest of the series because of the short turnaround for Thursday's 12:35 p.m. PT finale, though the manager added, "Coco felt a lot better when he got to the ballpark and got treatment than he did earlier today."
While Melvin suggested that neither ailment is severe, the timing is discouraging considering the A's are playing some of their best baseball of the season. Oakland (39-27) entered Wednesday with its best record after the first 66 games of the season since 1992 and had won 19 of its last 24 games.
Still, an injury before the All-Star break is preferable to later in the season, when the A's hope to be making their push for the postseason -- particularly with tricky muscles like Cespedes' hamstring.
"And it's a big hamstring on top of that," Melvin said. "We don't want to see that thing pulled. He actually wanted to stay in the game yesterday, but he understood. He's not a guy you want to take chances with."
Jeff Kirshman is a reporter for MLB.com. This story was not subject to the approval of Major League Baseball or its clubs.