Brewers' success at plate coming in threes
Brewers' success at plate coming in threes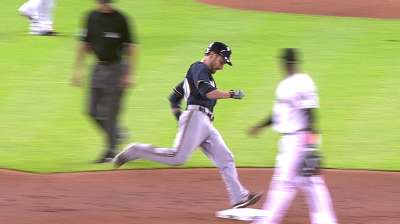 MIAMI -- The triple is one of the most exciting plays in baseball, and the Brewers have had a lot of excitement so far this season.
Even before Wednesday's first-inning, bases-clearing blast by Jonathan Lucroy, Milwaukee led the Majors with 26 triples and was on pace for 66 triples on the year, which would shatter the franchise record of 57 set in 1983.
Lucroy contributed the first of three triples Wednesday night to bring the team total to 29. The speedy Carlos Gomez added the other two to tie teammate Jean Segura for the Major League lead with eight.
"Gomey and Segura are going to hit triples just because they're fast and they drive the ball in the gap well," Brewers manager Ron Roenicke said . "The other guys, sometimes ballparks help, and we're hitting them in good spots."
The Brew Crew produced at least one triple in 11 of its last 12 games. Segura believes the team has taken advantage of the dimensions at Marlins Park this series.
"This park is good for triples because of how big it is," Segura said before Wednesday's game. "But I think we can hit triples anywhere. When you are fast and hit balls in the gaps, it's easier to get them, and I think that is exactly what we can do."
The Brewers have two streaks of five consecutive games with a triple this season. They have an active streak of six games and will have a chance to tie the franchise record of seven games Friday against the Reds.
"A triple is always exciting," Gomez said before Wednesday's game. "When I hit the ball in the gap, I put my head down and go all the way to third. When you do that with no outs and have one of the best bats in the game behind you in Aramis [Ramirez], it's awesome because you're probably going to score."
Gomez is in the midst of a career season. His .327 average and 36 RBIs rank second on the team, while his 11 homers lead the Brew Crew.
"I've been in this league for seven years," Gomez said. "I know what other teams will try to do to me, and I'm taking advantage of it. I have no fear now, and I'm not worried about anything. I just work hard and come ready to play every day in center field."
The 27-year-old has always been regarded as an impressive talent, but Gomez credits his improved play to a reduction in stress.
"Before it was tough because I used to think I would only play against a lefty," Gomez said. "Then I would think, 'Today I have to get two or three hits if I want to play tomorrow.' That puts a lot of pressure on you. Now it doesn't matter if I go 0-for-4 or 4-for-4; I am going to be in the lineup the next day. It takes a little bit of stress off me and helps me be more successful."
Roenicke agrees with Gomez's assessment, saying the talented outfielder has learned and matured significantly since he first broke into the Majors in 2007.
"He's put together quite a season so far," Roenicke said. "I had to move him in the third spot with Braun out and he continues to have good at-bats. He will get down in two strikes and next thing I know he is going the other way. That's what good hitters do. He's been impressive. He's learned a lot. He's smarter and his approach is better."
Segura, who homered in Wednesday's 10-1 win over the Marlins, has also been a bright spot for Milwaukee. The 23-year-old is batting .339 with 19 stolen bases, both team highs.
"My preparation in the off-season has helped me a lot," Segura said. "I worked hard to come in physically ready and I have had success so far this year."
David Villavicencio is a contributor to MLB.com. This story was not subject to the approval of Major League Baseball or its clubs.