Buchholz iffy to make Sunday start vs. Orioles
Buchholz iffy to make Sunday start vs. Orioles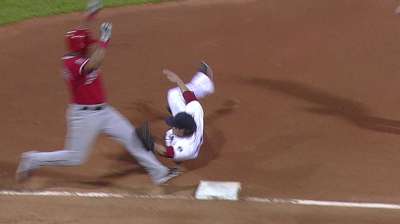 ST. PETERSBURG -- Manager John Farrell sounded less confident on Wednesday that Clay Buchholz would be able to start Sunday against the Orioles than he did 24 hours earlier.
This isn't to say Buchholz has had a setback. Instead, the Red Sox just need his ailing neck/AC joint to heal completely before he is back on the mound.
Buchholz played some catch on Wednesday.
"He threw the ball OK. I think he still felt a little bit of stiffness, but he improved over the last time he had a ball in his hands, with 48 hours of no throw," said Farrell. "We've got to factor in what takes place today and tomorrow for preparing through the rotation through Baltimore. We have options. Obviously we can bring Jon [Lester] back on Sunday and push Clay back to next Tuesday. If there's not marked improvement by tomorrow, we may be looking to do just that."
Lester would be on regular rest on Sunday, and Monday's off-day would then give Buchholz an additional two days to recuperate from his injury.
"The fact that he's still feeling some stiffness, we've got to factor that in," said Farrell. "This would only be two additional days than is normal rest. Much like with the approach we took the last time, we'll go when he's ready, and we have to factor every day he puts a ball in his hand into this."
Ian Browne is a reporter for MLB.com. Read his blog, Brownie Points, and follow him on Twitter @IanMBrowne. This story was not subject to the approval of Major League Baseball or its clubs.