Salty improving in all aspects of his game
Salty improving in all aspects of his game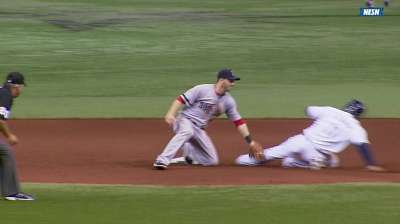 ST. PETERSBURG -- One of the underplayed stories with the Red Sox of late has been the emergence of Jarrod Saltalamacchia.
Be it offensively or defensively, Saltalamacchia is becoming a more well-rounded player.
It was there for everyone to see in Monday's 14-inning epic against the Rays. Not only did Saltalamacchia catch every Boston pitch, but he managed to belt four hits, two of them RBI singles in extra innings during the Sox's 10-8 win.
"A lot of people say with catchers, the later the game goes, the more tired they get or how hard it is for them," Saltalamacchia said. "It is true, but sometimes that can be a good thing. You're not trying too hard. You're just trying to see it and hit it."
In fact, Saltalamacchia has had a more simplified approach in most of his at-bats of late, and it is leading to better results.
Last year, Saltalamacchia was a big home run threat, smashing 25 of them. But he hit .222 and struck out 139 times in 405 at-bats.
Saltalamacchia came into Wednesday's game hitting .285 with eight homers and 28 RBIs. The strikeout number was still high (63), but that isn't as much of a drawback when you consider his .349 on-base percentage.
"I'm not trying to lift the ball [as much]," Saltalamacchia said. "Last year, I'd try to get a pitch on the outside half and lift it off the wall or something like that. I swung at some bad pitches and struck out. This year, I want to stay with the same approach of going with the ball where it's pitched, but I've been able to see a lot of pitches every at-bat and not do too much whenever I get in a good hitters' count."
If Saltalamacchia hits a few less homers than last year but keeps contributing with late-game hits like he did the other night, nobody will complain.
"Home runs are great," Saltalamacchia said. "You get everybody going. You're feeling good. But if you can get a two-out hit or a two-out RBI, those are just as good."
Then there is Saltalamacchia's work behind the plate. Following a start at Fenway Park last week, John Lackey went out of his way to say the following about Saltalamacchia.
"Salty did a great job for me behind the plate," Lackey said. "After taking a year off, I've really been impressed with the way he's been able to incorporate game plans and calling games since the last time I threw to him a couple years ago. He's made it easier on me."
Saltalamacchia enjoys praise like that, because he knows his game-calling is the most important aspect of his job.
"That's why I like to catch, because I'm able to help the team," Saltalamacchia said. "This pitching staff is going to take us to the World Series or it's not. The way they're pitching right now, it looks like they might take us. That's something we have to do together. It's not just them out there, it's not just me. I'm into it just as much as they are.
"Getting to know the guys is the biggest thing. I didn't know Lackey two years ago. I just faced him. [Clay Buchholz], same thing. [Jon] Lester, same thing. It takes time to get to know them. I feel like right now, I feel more comfortable than I've ever felt."
Ian Browne is a reporter for MLB.com. Read his blog, Brownie Points, and follow him on Twitter @IanMBrowne. This story was not subject to the approval of Major League Baseball or its clubs.