Ubaldo, bullpen on point as Indians top Rangers
Ubaldo, bullpen on point as Indians top Rangers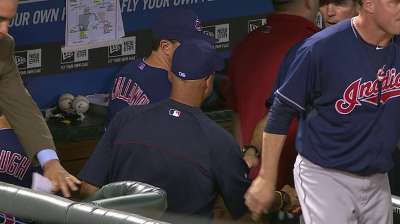 ARLINGTON -- A.J. Pierzynski popped up a pitch from Indians left-hander Rich Hill in the sixth inning and then slammed his bat to the ground in disgust. For Cleveland, and for the team's bullpen in particular, it has been nice to see frustration finally find its way to the other dugout for a change.
On a muggy Wednesday night at Rangers Ballpark, the Indians pulled off a 5-2 victory over Texas that resembled the kind of win that had gone missing during the Tribe's recent losing streak. Ubaldo Jimenez led the way to the win column with a solid start, the offense found its form and the bullpen shut the door when it mattered most against the Rangers.
That last element to this win felt especially important on the heels of a grueling road trip.
"This is how we're supposed to perform," Indians reliever Vinnie Pestano said. "I know it's a surprise, the way we've been playing these games lately, but this is the way this bullpen is supposed to get the job done. When we're handed the ball, especially with a four-run lead, let alone anything smaller, it's our job to go out there, get outs and win the ballgame."
That has been easier said than done of late for the Tribe's relief corps.
Over the past few seasons, even when Cleveland struggled as a whole, the team's bullpen remained reliable. The group had bordered on becoming a liability in recent weeks, considering it headed into Wednesday's contest with a Major League-worst 7.21 ERA dating back to May 21. During that time period, the Indians dropped 16 games in a span of 21 contests, including eight in a row before the past two wins.
All-Star closer Chris Perez is on the disabled list recovering from a right shoulder injury, Pestano has dealt with his own health and velocity issues throughout the season and the team's left-handed options have fallen far short of expectations. Given the wave of adversity that has hit the bullpen, Wednesday's win was a welcome development for the staff.
"Definitely," Jimenez said. "That's definitely going to make them feel better and more confident, any time they have a game like this. That was good for us."
The win was the second in a row for Cleveland (32-33), which claimed a series on the road for the first time since taking two out of three in Detroit on May 10-12. On the season, the Tribe has gone 12-2 against teams in the American League West, and the club wrapped up this three-city tour of New York, Detroit and Texas with a 2-7 record.
Jimenez set the stage for the bullpen's solid night.
The right-hander logged five-plus innings and limited the damage of the four walks and four hits he allowed against the Rangers' potent lineup. Texas drove Jimenez's pitch count to 101 at the time of his exit and the home team's lone breakthrough against the pitcher came courtesy of a leadoff home run from Leonys Martin in the third inning. It was an impressive performance given that Jimenez was not as his sharpest.
"All night I don't think he had his best command," Indians manager Terry Francona said. "To his credit, I thought he competed. They were very patient, and for the most part he worked ahead, even though he didn't really command the ball. He kind of stayed away all night."
The Indians offered sufficient run support against Rangers right-hander Nick Tepesch, scoring five runs in the starter's five innings. Cleveland struck first in the second inning, when Mike Aviles crushed a 2-0 offering to left field for a two-run home run. Michael Brantley added an RBI single in the third inning, and Jason Kipnis jump-started a two-run push in the fifth with a home run to right field.
Later in the fifth, Brantley drew a walk and came around to score on a double down the right-field line from Carlos Santana, putting the Indians ahead, 5-1.
The Rangers were on their third time through their lineup in the sixth inning when Jimenez issued a leadoff walk to Lance Berkman and then a single to Adrian Beltre. At that point, with the left-handed-hitting Pierzynski looming, Francona opted to hand the ball to Hill.
"We didn't need to let them creep back into that game," Francona said.
Hill did his job against the only hitter he faced, getting the Texas catcher to fly out to center field. That is when Francona turned things over to right-hander Bryan Shaw, who retired Nelson Cruz and Jeff Baker in order to escape the sixth inning unscathed. Shaw and lefty Nick Hagadone teamed to blank the Rangers in the seventh inning, and sidearmer Joe Smith followed suit with a scoreless eighth.
"It was like we expect," Francona said. "And I thought Ubaldo got us to a point where it was manageable, where you're not asking too much of anybody. Both our lefties got the lefties out. Shaw was very good. Any time, I don't care how you do it, when you limit [Texas] to one or two runs, you're doing something pretty good."
It was up to Pestano to finish the job, and Baker did not let him do so without a fight.
The second baseman led off the ninth with a 15-pitch battle against Pestano, who had nine pitches fouled off in a row before Baker sent a hard comebacker up the middle. The ball glanced off Pestano's glove, but second baseman Kipnis quickly scooped up the grounder and fired it to first base for a bang-bang out.
"He hit it back at me and I froze for a second," Pestano said. "Kip came up and made a nice play."
Later in the inning, Martin reached on an infield single and came around to score on a double from Jurickson Profar.
No harm done.
Pestano retired David Murphy on a flyout to end the game and seal the win.
"That's what our bullpen is supposed to be like," Pestano said.
Jordan Bastian is a reporter for MLB.com. Read his blog, Major League Bastian, and follow him on Twitter @MLBastian. This story was not subject to the approval of Major League Baseball or its clubs.