Struggles continue for Rangers bats in loss vs. Tribe
Struggles continue for Rangers bats in loss vs. Tribe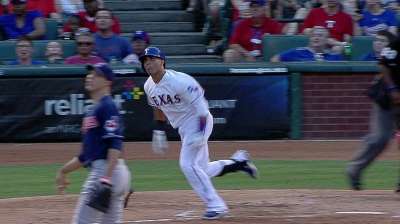 ARLINGTON -- The Rangers, buried in a June offensive funk, had a hitters meeting before Wednesday's game against the Indians.
"We're just trying to get them to relax and do what they are capable of doing with the pitches they're getting," manager Ron Washington said. "Don't think about results. June hasn't been good to us, but we're going to continue to fight through it."
The fight goes on. The results haven't been good and the Rangers lost another round on Wednesday night, managing eight hits and going 1-for-6 with runners in scoring position in a 5-2 loss to the Indians at the Ballpark in Arlington. The Rangers, in losing two of three to the Indians, have lost three straight three-game series and are 4-7 in the month of June.
The Rangers are hitting .221 for June with a .386 slugging percentage. They are also averaging 3.2 runs per game for the month and hitting .172 with runners in scoring position.
"It's definitely been a struggle," outfielder David Murphy said. "It happens to every team each year. But it's obviously something we need to turn around as soon as possible. We have to start getting more hits, get more guys on base and string together some good at-bats with runners in scoring position. Our production has been a little slow."
"It happens," veteran infielder Jeff Baker said. "We got a bunch of guys that care. Everyone in there cares, and they want to get that run in. Sometimes you just try to do too much, put that pressure on yourself and that creates that snowball effect. It's unfortunate, but I'd rather have that than guys up there who don't care and not try hard enough. It's not from a lack of effort, or lack of preparation or lack of 'want to,' we're just not getting it done right now."
The slump reflects what has transpired for much of the season. The Rangers entered Wednesday's game second in the American League in home runs and that's how they scored one of their two runs on Wednesday. But they were seventh in runs scored because they were 11th with a .245 batting average with runners in scoring position.
"We just haven't done a very good job as a team lately producing runs other than by hitting home runs," designated hitter Lance Berkman said. "We've really struggled hitting with runners in scoring position, and it doesn't seem like we can string anything together. As a consequence, we haven't won many games. We're not having great at-bats up and down the lineup. It just doesn't seem like we can get anything going."
Maybe the Rangers should do what their Class A team did last week. The Myrtle Beach Pelicans were in a dreadful slump, so their hitters had a bonfire, burning assorted bats, cleats and statistic sheets. On Wednesday night, the Pelicans won their sixth straight game.
"The offense I have is what I have," Washington said. "We've got to wait for it to come around. I don't know what tweaking or tinkering I can do. We're just flat offensively. We'll keep grinding and get through it."
Rangers starter Nick Tepesch has had his own trials lately, taking another loss after allowing five runs in five innings. Tepesch allowed eight hits, including two home runs. He only walked one, but twice hit Jason Giambi with a pitch.
"Sometimes you have it and sometimes you have to work hard for it, and tonight was one of those nights," Tepesch said. "My command was the big thing."
Tepesch is 3-6 with a 4.30 ERA on the season and is 0-3 with a 4.66 ERA in his last five starts. The Rangers have lost all five of those games. Tepesch is also 1-5 with a 5.12 ERA in his last eight starts since the beginning of May, and the Rangers have lost seven of those games.
"Run support," Washington said. "Five runs is usually not bad for our team. With more run support he could have won a few of those ballgames. Tonight we were within striking distance in some of those innings and we didn't finish it off."
Tepesch got through the first inning scoreless only because Murphy threw out Michael Bourn from left field trying to score on a two-out single. But he ran into trouble with two outs in the second when he hit Giambi with a 1-2 curveball. Mike Aviles then hit a 2-0 pitch into the left-field seats for a two-run home run.
The Indians added another run in the top of the third on singles by Bourn, Jason Kipnis and Michael Brantley. The Rangers scored in the bottom of the third on a leadoff home run by Leonys Martin. But the Indians scored two more in the fifth on a home run by Kipnis and an RBI double by Carlos Santana. Tepesch was done after that inning.
He left trailing 5-1, and that proved insurmountable for the Rangers' struggling offense. The June travails continue.
T.R. Sullivan is a reporter for MLB.com. Read his blog, Postcards from Elysian Fields, and follow him on Twitter @Sullivan_Ranger. This story was not subject to the approval of Major League Baseball or its clubs.