Marlins' homers coming from rare source
Marlins' homers coming from rare source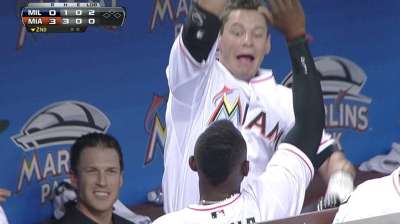 MIAMI -- Looks can be deceptive when it comes to Derek Dietrich.
At 6-foot, 200 pounds, the 23-year-old is not a prototypical power hitter. Yet, he certainly has the ability to knock the ball out of the park.
After connecting on a two-run shot in the Marlins' 5-4 win over the Brewers on Tuesday night, Dietrich upped his home run total to six since being called up from Double-A Jacksonville to the big leagues.
For the first time since Dan Uggla, the Marlins have a second baseman capable of reaching 20 home runs.
Uggla, with the Marlins from 2006-10, is the franchise's all-time home run leader. He is also the only second baseman to hit at least 10 homers in a season. In all five of his seasons in South Florida, he topped 30 four times after hitting 27 as a rookie in '06.
If you combine Dietrich's four homers in 28 games at Jacksonville with his six in the big leagues, he has 10 in 57 games.
"Coming up, I've always had power in my swing," Dietrich said. "Really, I'm trying to be a line-drive hitter, and work the gaps. When they make a mistake, put a good swing on it. Power has always been a part of my game."
The Marlins acquired Dietrich from the Rays last December for Yunel Escobar.
With low Class A Bowling Green in 2011, the former Georgia Tech University standout belted 22 homers. A year ago, he combined for 14 at Double-A.
"[Power] actually has been my best tool coming up as a middle infielder," Dietrich said. "Usually, you don't get that from a guy playing my position. I'm going up there trying to hit the ball hard each and every time, and hopefully get a good result."
Aside from Uggla, the Marlins have actually had little power from second base. Dietrich is also rare in that he is offering some pop from the left side.
Already, his six home runs are the most ever by a Marlins' left-handed hitting second baseman.
Luis Castillo, a switch-hitter, actually had six home runs with the Marlins in 2003, but all six came while he batted from the right side.
"I feel confident that he can get a big hit or have a great at-bat," manager Mike Redmond said. "I know he's got some pop. But you never know how it translates from Double-A to the big leagues. I've seen him hit for power. That's just a sign of what is in there, and what is going to come out. He's got the ability to hit for power."
Joe Frisaro is a reporter for MLB.com. He writes a blog, called The Fish Pond. Follow him on Twitter Share This