Scutaro determined to play despite finger injury
Scutaro determined to play despite finger injury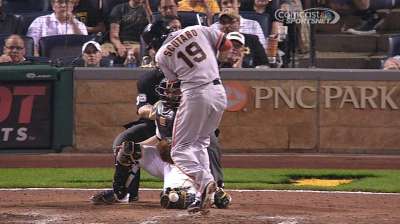 PITTSBURGH -- Giants second baseman Marco Scutaro remained intent on playing with an injured left pinkie, but his attempt to return to the lineup must wait until the swelling and pain in his finger subside.
Just as importantly, the Giants medical staff must fashion some sort of splint-like device that will keep his finger straight. If it's bent, which is its state when he removes the sheath he's currently wearing, Scutaro cannot function as a ballplayer.
Surgically inserting a pin to straighten the finger would help, but then playing baseball would be extremely risky.
"It'd be OK if I had a different job," Scutaro said Wednesday after visiting a hand specialist. "But playing baseball, it wouldn't be [safe] because if I got hit again or I dive ... that thing [could break]."
Scutaro spoke to reporters shortly before meeting with manager Bruce Bochy and head athletic trainer Dave Groeschner to discuss the issue. His injury can be categorized as "mallet finger," which is caused by a ruptured or stretched tendon. It's common among baseball players. Bochy said San Francisco reliever Jean Machi has an afflicted finger, and so did ex-Giants Travis Ishikawa and Jeff Fassero, who played despite the injury.
After the meeting, Bochy indicated that Scutaro will nurse the finger for at least three days.
"There's a possibility that this will work with the splint there," Bochy said, adding that Scutaro might be able to play in this weekend's series at Atlanta, though "it'd be a bit of a long shot."
Resting for six to eight weeks is another option. But Scutaro's desire to play has eliminated that possibility. Scutaro, who ranked fourth in the National League with a .332 batting average entering Wednesday, conceivably could function with a device on his pinkie, since it's not an integral part of his swing. Scutaro, 37, curls his pinkie underneath the knob of his bat.
But quality of life is also an issue for Scutaro, who signed a three-year, $20 million contract in the offseason. Keeping the finger straight is essential to preventing it from being bent permanently.
"That's why we're trying to figure something out," he said, "because I want to play, but I also want to have a good finger. I don't want to live with a finger like this."
Tony Abreu replaced Scutaro, both at second base and batting second.
In other injury-related developments, Bochy said that both center fielder Angel Pagan (left hamstring) and third baseman Pablo Sandoval (left foot) had progressed in their healing. Pagan probably won't be reinstated from the disabled list during this three-city trip that ends Sunday in Atlanta. But Bochy said that Sandoval should be ready to leave the DL as soon as he's eligible. That happens to be June 24, when the Giants open a three-game series at Los Angeles.
Chris Haft is a reporter for MLB.com. This story was not subject to the approval of Major League Baseball or its clubs.