B.J. Upton turning it around after slow start
B.J. Upton turning it around after slow start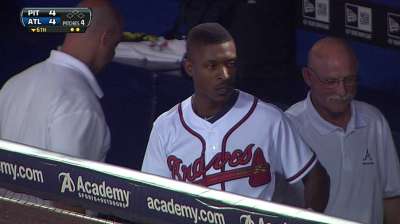 SAN DIEGO -- B.J. Upton has started to show some signs of encouragement at the plate. But after seeing two long fly balls caught at the outfield wall during this week's series at Petco Park, the slender Braves outfielder playfully said it might be time to add some weight.
"I might need to get with the chef to see if I can get some more weight put on me or something," Upton said. "I hit the one [Monday] pretty well. The one I hit [Tuesday] really well and it didn't go. That's just how it goes."
Actually, things have recently been going much better for Upton. He entered Wednesday having hit .258 with two home runs and a .894 OPS in his previous 10 games. During this stretch, he raised his batting average from .145 to .163.
"I'm comfortable up there right now," Upton said. "I said earlier this year at some point [that it was] going to turn around, and it's been getting better. Right now, I like where it's at. If I can keep it where it's at, I should be good."
Mark Bowman is a reporter for MLB.com. This story was not subject to the approval of Major League Baseball or its clubs.