Mets all but certain to be rained out on Thursday
Mets all but certain to be rained out on Thursday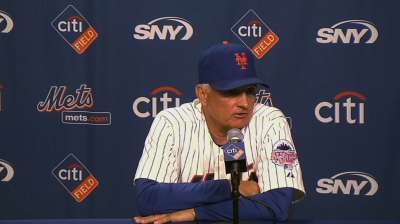 NEW YORK -- It's become almost a cruel joke at this point, as there's an 80 percent chance that rains will roll into New York once again on Thursday. In a season that's already featured six rainouts, Thursday's series finale against the Cardinals is almost certain to be the seventh.
"I don't think anybody in baseball has gone through what we've gone through this year," manager Terry Collins said.
The abundance of rainouts causes what Collins calls "a day-to-day problem." Due to unbalanced schedules that leave certain teams playing each other just once a year, or with a single home-and-home series, it becomes difficult to plan makeup days.
The Mets don't play the Cardinals again this season, and the two teams have just one common off-day. The Mets face the Rockies in Denver the day after that.
For now, though, the question becomes what to do with Matt Harvey and the rest of the rotation. Harvey is set to face Adam Wainwright on Thursday, and a rainout would leave the Mets with a choice of skipping the young ace's start or having him pitch on an unusual six days of rest. For Collins, the solution is obviously the latter.
"I'd move him back a day," he said. "It doesn't look good, I know that. We'll just make our adjustments and move everybody back one."
The more taxing challenge for Collins will come when the compounded effect of all the rainouts is experienced toward the end of the season, when game days are hotter.
Staying rested hasn't been a problem this season, with New York typically having a day or two off each week, but Collins already knows it will be later this year.
"We've had so many days off early, it's not like anybody's tired," he said, "but when it starts getting 90 degrees every day and it's July, it's going to take its toll to where you've really got to make sure guys are getting days off to keep their energy up, because it's going to wear them down."
Chris Iseman and David Wilson are associate reporters for MLB.com. This story was not subject to the approval of Major League Baseball or its clubs.