Braves battle, but drop finale of tough road trip
Braves battle, but drop finale of tough road trip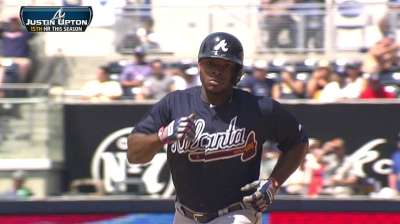 SAN DIEGO -- This certainly was not the first disappointing road trip the Braves have encountered this season. But it was unique in the sense that it did not create anywhere near the same level of frustration as the previous two.
In fact, after the Padres completed a three-game sweep with Wednesday afternoon's 5-3 win over his team, Braves manager Fredi Gonzalez remained relatively upbeat. Instead of focusing on the three-run first inning Paul Maholm endured in the loss, he focused on the bad luck his team encountered during the three-game series.
"Not to take anything away from the Padres, but this was a weird series," Gonzalez said. "We outhit them all three games. Nevertheless, we lost all three. But our guys busted their [behinds] every single night."
The Braves won just twice on a seven-game road trip that began against the Dodgers. They have lost 20 of the past 31 games played outside of Atlanta.
This marked the second time the Braves have been swept. The first time was a three-game set April 26-28 in Detroit. That series against the Tigers came at the end of a 10-game trip that included just three victories.
"We played good baseball [on this trip]," Gonzalez said. "When we went to Detroit, we didn't. We walked people, made errors, left people on base and all that kind of stuff. Here, this whole trip, I felt like we swung the bat really, really well."
In Friday night's series opener, the Braves entered the eighth inning staring at a 7-1 deficit. With three home runs -- one from Evan Gattis and two from Jason Heyward -- they drew within one run before Justin Upton extended his struggles by looking at strike three to end the game.
However, this was an encouraging series for Upton, who went 5-for-13 with two extra-base hits in San Diego. His solo shot off left-hander Joe Thatcher in the eighth inning of the series finale was his first home run in a span of 88 at-bats, dating back to the game-winning grand slam he hit against the Dodgers on May 17.
But one inning after hitting his 15th homer, Upton once again looked at a game-ending called third strike as he represented the go-ahead run.
"They got the outs when they needed to get outs," Gonzalez said. "I'm not taking anything away from the San Diego Padres. We came in here and they swept us. But we felt like we played a lot better."
Maholm walked Everth Cabrera to begin the first. Four batters later, he allowed San Diego to take an early lead with a five-pitch, bases-loaded walk to Kyle Blanks. The two walks issued in the first equaled the total the Braves left-hander had issued in his two previous starts combined.
"Usually when you're missing in the first, there is too much adrenaline and you're missing up," Maholm said. "I was just throwing sinkers and changeups and trying to get a ground ball. I just kept missing in the bottom of the zone."
Logan Forsythe provided the big blow in the first with a two-run single he snuck through the middle of the infield. One of the runs that scored on Forsythe's single was unearned, courtesy of an error charged to Dan Uggla after he fielded Carlos Quentin's chopper behind second base.
"I didn't feel great in the first inning," Maholm said. "But I was throwing the ball pretty close to where I wanted. It's not like they were crushing the ball. It was just the couple walks and the ground ball that got through."
Maholm retired 10 straight before Cabrera began the fifth with a single just ahead of the decisive two-run home run Chris Denorfia sent into the left-field seats. Denorfia's homer proved to be significant when the Braves tallied one run against San Diego's bullpen in each of the final two innings.
Coming off a start in which he allowed nine earned runs at Coors Field, Padres starter Edinson Volquez limited the Braves to one run in seven innings.
It appeared Atlanta was going to break through against Volquez when it recorded three consecutive one-out hits in the third. But after Andrelton Simmons scored on Upton's single, Freddie Freeman smoked a first-pitch changeup that skipped into Chase Headley's glove before the Padres third baseman threw to second to begin an inning-ending double play.
After Freeman opened the sixth with his second single of the game, Evan Gattis drilled a line drive that Forsythe caught before throwing to first base to complete another double play.
"That's kind of the story of our games on the road so far," Uggla said. "We hit balls hard. But it just didn't work out for us."
Mark Bowman is a reporter for MLB.com. This story was not subject to the approval of Major League Baseball or its clubs.