Volquez goes seven strong as Padres sweep Braves
Volquez goes seven strong as Padres sweep Braves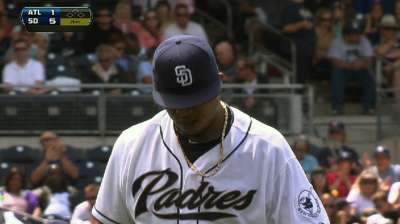 SAN DIEGO -- The task for Nick Vincent's first career save was to retire one batter, and he would preserve a sweep over the National League East-leading Braves.
However, that batter was Justin Upton, who had just hit his 15th home run of the season in the previous inning. And Upton represented the go-ahead run with runners on first and third.
So in only Vincent's third appearance for San Diego this season, he struck out Upton looking for the final out as the Padres defeated the Braves, 5-3, on Wednesday afternoon in front of 22,316 fans at Petco Park.
"That was a great duel, a great battle between a young pitcher trying to establish himself as a Major Leaguer against a guy who's off to a great start, especially power-wise," said San Diego manager Bud Black.
It sealed the first Padres' three-game sweep over the Braves since May 16-18, 2005. San Diego needed three relievers -- acting closer Luke Gregerson, lefty Tommy Layne and finally Vincent -- to get three outs in the ninth to squelch the Braves rally.
"I just felt in the ninth, getting a fresher arm, getting a matchup with a certain hitter was the way to go," Black said. "Usually it doesn't happen that way ... but in today's game, I just felt that we had to try to get certain pitchers on certain hitters."
The Padres held on to a victory for starter Edinson Volquez, who joked about the stressful ninth.
"I wasn't watching," said Volquez with a smile.
Volquez rebounded from a dud in his last start, where he lasted just 2 1/3 innings while allowing nine runs and 11 hits, both career highs. He was 1-2 with an 8.31 ERA over his last five starts.
On Wednesday, Volquez turned in one of his best performances of the season, allowing one run on six hits with three walks and a season-high nine strikeouts over seven innings.
"For him, it's about the secondary pitches in the strike zone," Black said. "Today he threw the hook in the strike zone and made some great pitches with the change."
At times, Volquez got hit hard and often pitched with baserunners on, but worked his way out of trouble each time. For example, in a three-pitch sixth, he allowed a hit, then erased it with a double play on a lineout before getting the next batter to ground out.
"They got the outs when they needed to get outs," said Braves manager Fredi Gonzalez, whose team left nine runners on base. "I'm not taking anything away from the San Diego Padres. We came in here and they swept us. But we felt like we played a lot better."
The Padres jumped out to a 3-0 lead in the first off Braves starter Paul Maholm. Kyle Blanks walked with the bases loaded to force in a run, followed by a two-run single to center by Logan Forsythe.
The Braves got a run back when Upton singled home Andrelton Simmons during a stretch of three straight Atlanta hits in the third. The damage could have been worse, but Freddie Freeman grounded into an inning-ending double play.
In the fifth, Chris Denorfia hit a two-run homer to left field to give the Padres a 5-1 lead they would not relinquish. Before the home run, Denorfia had one hit in his last 18 at-bats.
The Braves scored in the final two innings, with a homer by Upton in the eighth and an RBI single from Jordan Schafer in the ninth off Gregerson before Vincent recorded the final out.
"I trust our bullpen over any bullpen in the league," Denorfia said.
The Padres (32-34) are carrying some momentum as winners of six of their last eight. After an off-day Thursday, they will enter this weekend's series against the NL West-leading D-backs at Petco two games under .500.
And they're doing so with some key players from their Opening Day roster on the disabled list, including starting first baseman Yonder Alonso, second baseman Jedd Gyorko, center fielder Cameron Maybin and closer Huston Street.
"We've been playing very good baseball," first baseman Jesus Guzman said. "When you play like that, you're going to get the results you want. The first step is to get to .500. We're fighting because we want something to fight for at the end of the season."
Jamal Collier is an associate reporter for MLB.com. This story was not subject to the approval of Major League Baseball or its clubs.