One more for Leake, Reds' streak at Wrigley
One more for Leake, Reds' streak at Wrigley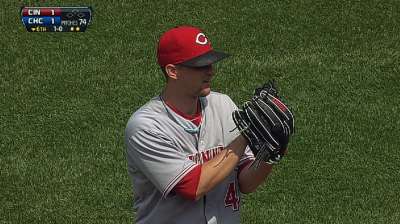 CHICAGO -- In a battle between friends and former teammates, Mike Leake might have had a bit more momentum on his side than Cubs starter, and former Red, Travis Wood.
Leake, with the help of his Cincinnati teammates, outdid Wood on Wednesday afternoon, and the Reds' 2-1 victory extended their winning streak at Wrigley Field to 12 games, the most ever by an opponent at the Friendly Confines.
The similarities between the two starters -- tremendous athletes, quick workers on the mound, talented hitters who pitched together in the Reds' rotation from 2010-11 -- are plenty, and both gave their team a chance to win. But Brandon Phillips' two-out RBI single in the sixth and Todd Frazier's solo homer the following inning were the difference for Cincinnati.
"It's fun, definitely, and frustrating at the same time," Leake said. "You want him to do well and you want yourself to do well. Today we both did really well. I can't complain."
Leake pitched a season high eight innings, improving to 4-1 with a 1.13 ERA in his last six starts. It was his seventh quality start, and Wood's third in a row. The Chicago lefty has 12 quality starts in his 13 outings this year, and a 2.67 ERA in seven starts against the National League Central.
"Woody can pitch," Reds manager Dusty Baker said. "We hated to give him up, but we had to give up something to get [reliever Sean Marshall]. He was one of my favorite guys here, period. But it's part of the business. He kind of lost it there for a while when he was so good, pitched that one here against Philly, and seemed not to have the same stuff. But now he's got it back again."
The Reds didn't get their first hit against Wood until there were two outs in fifth, as former Cub Cesar Izturis broke up the no-hit bid with an infield single to short.
In the sixth, Shin-Soo Choo -- getting a break from the leadoff spot because of his struggles against lefties and, in particular, Wood -- doubled to left and scored on Brandon Phillips' two-out single up the middle.
The Cubs had taken the lead off Leake on Nate Schierholtz's eighth homer of the year, a solo shot in the second.
Frazier led off the seventh with a solo blast to left, his second homer in as many games.
Leake kept the Cubs in check by striking out the side in order in the bottom of the seventh, and closer Aroldis Chapman struck out two in the ninth, topping out at 100 mph on the Wrigley radar gun.
"That was the best we've seen him this year," Baker said of Chapman, who earned his 17th save.
Both Phillips and Frazier have been fantastic this series. Phillips has seven RBIs in the three games, along with a few fine plays at second base, and Frazier has homered in back-to-back games. For Frazier, his hot hitting comes after a day off, in which Baker instructed the third baseman to study pitcher's release points to keep him concentrated.
"We've got smart coaches here. The staff knows what they're talking about," Frazier said. "When you're concentrating on the game, whether it's watching guys play defense or trying to understand the pitchers and their viewpoints on things, it keeps you in tune and feeling better about yourself."
Cincinnati has now won nine of its last 10 against Chicago, and 19 of 22 dating back to last year. The Reds have already clinched the season series.
"It's a broken record," Cubs manager Dale Sveum said. "Woody just pitched another great game and has nothing to show for it."
Joey Nowak is a reporter for MLB.com. Follow him on Twitter at @joeynowak. This story was not subject to the approval of Major League Baseball or its clubs.