Cingrani still odd man out of Reds' rotation
Cingrani still odd man out of Reds' rotation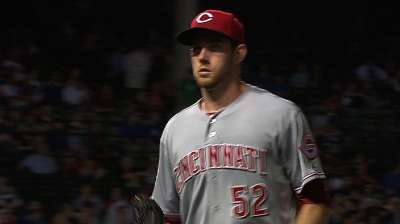 CHICAGO -- There's no question rookie left-hander Tony Cingrani has impressed in the time he's spent with the big league club this year. The Reds would love to hold on to him, but they simply don't have a place in the rotation. For now, they have him at their disposal strictly as a sixth starter.
"Whose place is he going to take? It's not a dilemma, that's how it is," manager Dusty Baker said. "Yeah, he's deserved it. His breaking ball and secondary pitches are getting better. Before we push somebody out and push somebody in, if a guy's not doing a job, there's a lot of things involved. There's contracts, all kind of stuff. He's done excellent for what we needed him to do."
Baker said he told the team in Spring Training that it will take everyone to "win this thing," and that includes players filling in when needed.
Cingrani tied a career high with seven innings pitched Tuesday night, recording his third quality start in seven outings this year. He's 3-0 with a 3.15 ERA, and with the club in lieu of the injured Johnny Cueto. Cingrani is considered by MLB.com to be the Reds' No. 3 prospect, and second best pitching prospect.
"Who knows what we're gonna do in the future? Every organization has somebody in waiting," Baker said. "If they didn't, you wouldn't be a very good organization. There's a lot of value in that. Eventually he's going to be on the team. Eventually if you pitch well or play well enough, you will be on the team. The key word is eventually."
Baker said the team has to keep the team's and Cingrani's best long-term interests in mind. For that reason, moving him to the bullpen is unlikely. But if the situation calls for it, perhaps in September or in the playoffs, that may be a different story.
"If you did that, that's thinking about today," Baker said. "Because he wouldn't have progressed with his breaking ball or his secondary pitches if he went to the bullpen. You can't have both. … Later, down the line, if we're in a pennant race and we need him after he's honed some of his skills, I wouldn't be reluctant at all to put him in the bullpen. But it's September, or down the stretch with September call-ups."
Joey Nowak is a reporter for MLB.com. Follow him on Twitter at @joeynowak. This story was not subject to the approval of Major League Baseball or its clubs.