Extras, Extras: Royals walk off against Tigers
Extras, Extras: Royals walk off against Tigers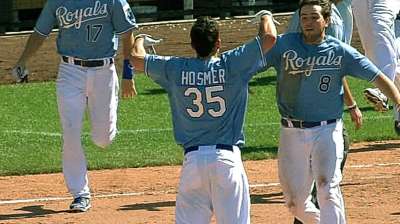 KANSAS CITY -- The Royals couldn't have dreamed up a much better ending to their nine-game homestand. Not only did they defeat the American Central-leading Tigers, 3-2 in 10 innings on Wednesday in the rubber game, they did it in thrilling fashion.
Eric Hosmer delivered in the clutch as he grounded a single up the middle to give the Royals a dramatic walk-off win at Kauffman Stadium.
The Tigers had the Royals on the ropes in the ninth inning, but Royals center fielder Lorenzo Cain kept swinging.
With two outs and two strikes, Cain blasted a two-run shot over the left-center-field wall off of Tigers closer Jose Valverde to force extra innings. That set the stage for Hosmer's heroics in extra frames.
"There's a little more meaning to it when you're down to your last strike, you haven't had anything going your way all day long offensively, and then to strike like that and tie the ballgame up and come back and win it the next inning, is always extremely satisfying," Royals manager Ned Yost said.
After the Tigers went down in order in the top of the 10th, Miguel Tejada singled to center and advanced on a sacrifice bunt. Tejada moved to third on Alex Gordon's groundout and scored on Hosmer's single.
"When you're a little kid in the backyard, you dream about situations like that," Hosmer said. "It's excitement more than nerves at that point. You want to be the guy in that situation. Fortunately enough for us today, it worked out and it was a nice win for us."
On a hot afternoon, a crowd of 24,564 fans were treated to the Royals' third walk-off win of the season as they improved to 5-1 in extra innings.
The Royals had a chance win it in regulation with David Lough on second and Mike Moustakas at the plate, but Moustakas popped up to left field to end the inning.
It was a low-scoring series between the top two staff ERAs in the American League with all three games decided by a 3-2 score. James Shields struggled with his command early -- giving up a run in the first and another in the fifth -- but Tigers ace Justin Verlander was in stellar form as he pitched seven scoreless innings. Both received no-decisions.
"Sometimes baseball is not fair," Tigers catcher Brayan Pena said. "When you see a performance like Verlander today, the guy was unbelievable. The guy, like I told you guys in the past, he's going to get better and better and better each time he goes out there. He's been doing that so far. Today was one of those days he was unbelievable. He was mixing it up. He was pitching down in the strike zone. He did a great job for us. Actually, he did a superb job for us. But we just couldn't get it done for him and for our team."
The Tigers got off to a quick start in the first with a double by Avisail Garcia that rolled to the left-field wall. He advanced on a sacrifice bunt by Torii Hunter and scored on a Prince Fielder single to left field.
Verlander's first inning was a little smoother with a strikeout and two fly balls to the outfield.
Even when Shields was struggling, the Kansas City defense had his back with double plays in the first and third innings, followed by a spectacular catch by Lough to end the third. After a diving, tumbling grab that knocked off Lough's cap and sunglasses, he triumphantly thrust the ball into the air.
"If you can have a 15 out of 10, that is probably how I would rate it," Shields said. "That was a very crucial part of the game and that is going to be up there for catch of the year as far as I'm concerned."
The Tigers struck again in the fifth propelled by back-to-back doubles. Matt Tuiasosopo hit a broken-bat shot down the third-base line. Pena followed with another that went to the warning track in center field. Cain missed it by inches before it rolled to the wall to send another run across. Pena advanced on a sacrifice bunt, but was stranded at third.
Shields pitched seven innings with seven hits and two runs. He also had six strikeouts, two walks and a hit batsman.
"That's a tremendous lineup over there and you can't make any mistakes," Shields said. "I felt like I made a really good pitch to Cabrera there in the first inning and it might have been able to go either way I thought. If you can minimize the damage with seven innings and two runs to that team it's a pretty solid day."
The Tigers had stifled the Kansas City offense -- allowing only five hits until that fateful ninth inning.
"It hurts," Verlander said. "You've got two outs and two strikes and the ball leaves the yard. It's not a good feeling, but it only ties the game, so immediately you have to change your mindset to, 'Well, let's go out and win it.' But to lose it that way, it's a tough pill to swallow."
With this latest victory, the Royals finished their homestand 7-2 after going just 6-21 in the previous 27 games. They also moved to 5 1/2 games back of the Tigers in the AL Central standings.
"We are playing with high confidence right now," Shields said. "We are pitching the ball and getting some really timely hitting. When you have that kind of combination, you win a lot of ballgames."
Kathleen Gier is an associate reporter for MLB.com. This story was not subject to the approval of Major League Baseball or its clubs.