Ohlendorf gives Nats boost in spot-start win
Ohlendorf gives Nats boost in spot-start win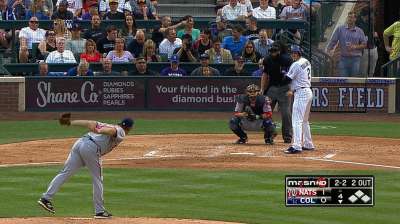 DENVER -- Before his first big league start in nearly nine months, Ross Ohlendorf quietly settled at a clubhouse table with a pair of headphones and a book. He appeared calm and comfortable, and he pitched with a similar attitude, allowing only one run on two hits in six innings to help the Nationals take down the Rockies, 5-1, at Coors Field on Wednesday night.
Ohlendorf (1-0) may have just been making a spot start, but he pitched as if a spot in the Nationals' starting rotation was on the line. He was masterful through his first five innings, giving up just one hit -- a first-inning bunt by Colorado second baseman Jonathan Herrera down the first-base line -- and no runs.
The victory returned the Nationals to an even 32-32, their third win in four games, and restored hope that this will be a stretch which pulls them back into the National League East race. It also split the series, with the chance to win it Thursday in the finale.
Ohlendorf flew into Denver on Tuesday night and joined the team Wednesday following his callup from Triple-A Syracuse. He allowed only one run on 89 pitches, striking out two and walking two. It was his first Major League appearance since an Aug. 17, 2012, start with the Padres, and his first big league win since Aug. 7, 2012.
Adding to the intrigue was Ohlendorf's slow, loopy delivery, which he just started using in games this year in the Minors. He first experimented with it with the Pirates.
"He had good movement on [his pitches]," Nationals manager Davey Johnson said. "He used the curveball and slider, used both sides of the plate, and I liked his windup, too. That reminded me of some old-fashioned windups.
"I'm going to try to find a way to keep him around."
Ohlendorf attacked the strike zone, leaning heavily on his fastball and also working in a slider and changeup to frustrate the Rockies. Even though he often tossed the ball over the middle of the plate, catcher Jhonatan Solano said his pitches had enough late movement to keep Colorado's hitters from squaring up.
"He was good, spotted up, had made some adjustments from the last time I remember facing him," Rockies shortstop Troy Tulowitzki said.
Ian Desmond drove in the Nationals' first run, in the fourth, skirting an infield single past the glove of Rockies first baseman Todd Helton to move his hitting streak to a career-high 14 games. That scored Ryan Zimmerman, who led off the inning with a walk.
Zimmerman returned the favor in the sixth when he doubled into left-center field to score Jeff Kobernus and make it 2-0 in favor of Washington. Colorado center fielder Dexter Fowler and left fielder Carlos Gonzalez both sprinted toward Zimmerman's ball, heads skyward, and as Fowler attempted to make the leaping grab, his knee collided with Gonalez's right shoulder. After a brief visit from the Rockies' trainer, both players stayed in the game.
That ended the night for Rockies starter Jorge De La Rosa (7-4) after 5 1/3 innings, with three earned runs, three walks and five strikeouts to his name.
But the Nationals found equal success with reliever Adam Ottavino on the rubber, scoring two more runs in the sixth, one credited to De La Rosa. Desmond made sure the Rockies regretted the decision to intentionally walk Adam LaRoche ahead of him, as he singled into center to earn his second and third RBIs of the night.
"Early on [this season], I was struggling with runners-in-scoring-position situations, but, thank God, they keep on giving me opportunities," said Desmond, who is 14-for-34 in June. "As long as they keep on coming, I'm going to keep on trying to grind through them."
Ohlendorf finally showed his first sign of weakness in the sixth, when Gonzalez tripled into deep left-center to cut the Nationals' lead to 4-1. But Ohlendorf then stranded Gonzalez 90 feet from home, drawing a popout from Tulowitzki to end the inning and his stellar outing.
"I knew that I needed to pitch well," Ohlendorf said. "Their lineup's really good, too. I knew I was capable of having a good game, I just needed to make sure to do it."
Anthony Rendon doubled to left field to plate LaRoche in the eighth, Washington's fifth and final run. The rookie has reached base safely in 12 consecutive games.
Nationals relievers Ian Krol, Tyler Clippard and Rafael Soriano made sure Ohlendorf's outstanding night did not go to waste, allowing just one hit over the final three innings.
"Our pitching staff has been pitching a whole lot better," Desmond said. "I say it all the time, but when they're hitting their spots, it makes it so much easier for us to play defense."
Ian McCue is an associate reporter for MLB.com. This story was not subject to the approval of Major League Baseball or its clubs.