Hardy in midst of sustained surge with lumber
Hardy in midst of sustained surge with lumber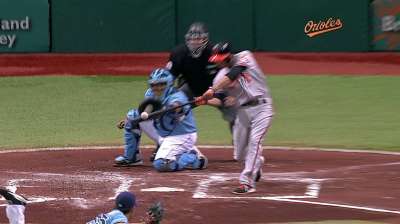 BALTIMORE -- J.J. Hardy's surge to the top of the American League All-Star ballot at shortstop has coincided with a surge at the plate.
Through his first 30 games, Hardy was hitting just .191 with four doubles and three homers. But from May 4 through play entering Wednesday, he was hitting .331 with 10 doubles, 10 home runs and 24 RBIs.
"I don't know if anything's different or not," Hardy said. "For the most part, I feel like I'm not a fast guy on the bases, so I need to drive the ball if I'm going to stick around. It's been good so far."
Hardy would have had another home run Tuesday if not for an athletic play by Peter Bourjos to rob him in center field.
"You don't even want to look at him. You don't go, 'Hey, hang in there,' because of what he can say sarcastically. J.J. doesn't do that. He's very professional," manager Buck Showalter said. "I'm sure he had a couple of 'really?' moments. … You're a fan of good plays, but I wasn't a fan of that one at all, for J.J.'s sake."
Hardy is hitting a higher percentage of line drives recently, and a higher percentage of his fly balls have left the park compared to his career numbers -- two sabermetric stats that Hardy says he doesn't pay attention to.
"No, I have no idea what all those numbers mean. But I am trying to be more aggressive and try to drive the ball, and I think everyone knows that I don't have a whole lot of power going the other way, so in order for me to leave the ballpark, I need to go basically left-center over. So I'm looking for a pitch that I can drive that way, and if not, maybe take a single the other way."
Besides his aggressive approach, Hardy said hitting in the Orioles' lineup has helped him, because there are always opportunities to drive in runs.
"It makes it a lot easier when you're hitting seventh in a lineup like this, and it seems like there's always people on base. It's fun to be a part of, you feel like you always have a chance to drive somebody in," Hardy said.
Derek Wetmore is an associate reporter for MLB.com. This story was not subject to the approval of Major League Baseball or its clubs.