D-backs see Dodgers land final blow
D-backs see Dodgers land final blow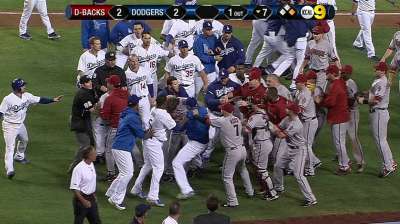 LOS ANGELES -- On a Tuesday night at Dodger Stadium when tempers boiled over, dugouts emptied and punches were thrown, the Dodgers managed to land the final blow in a 5-3 win over the D-backs.
"It was a good game," D-backs catcher Miguel Montero said. "Obviously they came back and won the ballgame, but it was a good battle both ways."
The D-backs carried a 3-2 lead into the eighth, but it disappeared amid three walks by David Hernandez and a three-run double off the bat of Tim Federowicz.
"That was huge," Federowicz said. "At the big league level, that's my biggest hit. I stuck with my approach, didn't try to do too much and it paid off."
Hernandez (2-3) walked Adrian Gonzalez, Andre Ethier and Juan Uribe to load the bases with one out in the eighth and Federowicz jumped on a first-pitch fastball and blasted it to left.
"Once he got ahead, he couldn't put them away on a couple of pitches," Montero said. "Obviously when you walk guys like that, eventually you're going to get hit. The catcher, Federowicz, he put a good swing on it and that was the difference."
The game will likely be more remembered for the fight that took place in the bottom half of the seventh when D-backs right-hander Ian Kennedy hit Dodgers right-hander Zack Greinke with a pitch. It was the fourth hit-by-pitch of the night and it triggered a bench-clearing brawl that resulted in six ejections.
The D-backs got on the board first when Jason Kubel hit a two-run homer off Greinke in the fifth inning.
In the sixth, Dodgers phenom Yasiel Puig was hit -- it appeared in the nose -- by a Kennedy pitch.
"That was supposed to be an inside pitch," Kennedy said of the 1-2 fastball. "Trying to strike him out, I'm not trying to hit him, that's what it comes down to."
Ethier made Kennedy pay when he followed the hit-by-pitch with a home run to right to tie the game at 2.
Montero was hit in the back when he led off the next inning in apparent retaliation for Kennedy hitting Puig. Both benches were warned at that point. The benches briefly emptied, but there were no punches or shoves exchanged.
"I went down to first because we're playing pretty good and the last thing you want is to fight and get players suspended," Montero said.
When Greinke came up to bat with one out in the bottom of the seventh, Kennedy hit him in the shoulder area with a pitch. That prompted both benches to empty as a wild melee erupted, punches were thrown and it took a while for order to be restored.
"I wanted to throw inside just kind of to send a message, but not to hit the guy and it just kind of got away from me a little bit," Kennedy said. "I was really just trying to go inside because I didn't think it was right what he did to Miggy."
D-backs manager Kirk Gibson, assistant hitting coach Turner Ward and Kennedy were ejected along with Dodgers hitting coach Mark McGwire, Puig and reliever Ronald Belisario.
The loss snapped Arizona's five-game winning streak against the Dodgers, but up until the emotional bottom of the eighth it looked like they were going to continue their dominance of their rivals.
In the top of the eighth, A.J. Pollock, who was pinch-hitting for pitcher Brad Ziegler, doubled down the left-field line with one out and after Gerardo Parra drew a walk, Willie Bloomquist grounded a single to left off J.P. Howell to give Arizona a short-lived 3-2 lead.
"It was a good game," Gibson said. "We've had a good series with these guys."
The two teams conclude the series Wednesday night and it remains to be seen whether the bad blood from Tuesday will carry over. After all, these are two teams that have had hit-by-pitch battles in each of the last three seasons.
"If it's over, it's over, great," Bloomquist said. "If it's not, baseball has a way of working things out."
Steve Gilbert is a reporter for MLB.com. Read his blog, Inside the D-backs, and follow him on Twitter @SteveGilbertMLB. This story was not subject to the approval of Major League Baseball or its clubs.