Holland can't solve Tribe for first time in Rangers' loss
Holland can't solve Tribe for first time in Rangers' loss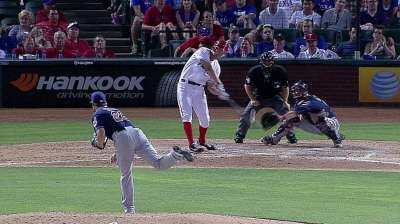 ARLINGTON -- Rangers starter Derek Holland began his night by striking out the side in order in the first inning. It went straight down from there and he was done before the fifth was over, except for the self-flogging postmortem delivered in front of his locker after the game.
"I'm very disappointed with the way I performed," Holland said. "The first inning ... I thought I was in control. I'm very disappointed I didn't do my job. I didn't keep us in the ballgame."
Instead, Holland allowed four runs in 4 1/3 innings and was handed his first loss since April 27 in a 5-2 defeat to the Indians on Tuesday night at the Ballpark in Arlington.
The Rangers have lost the last two games started by Holland after winning six straight with him on the mound. Holland, who had a no-decision in his last start, is now 5-3 with a 3.11 ERA on the season. Holland, in his shortest outing of the season, also lost for the first time in seven career starts against the Indians.
"I didn't have my best fastball, and they found some holes ... some balls fell in," Holland said. "Overall, it was a terrible performance by me."
Well, the Indians weren't exactly crushing the ball, but they were doing a far better job against Holland than the Rangers were doing against Indians starter Corey Kluber. He held the Rangers scoreless through seven innings and allowed just one run over eight in the longest of his 21 career Major League starts. Kluber, who pitched at nearby Coppell High School, walked three and struck out three in his first career start against the Rangers.
"He kept the ball down," Rangers shortstop Elvis Andrus said. "He commanded the cutter and the slider pretty well today. He's another guy that we've never faced, so it's always tough, especially when they have all their stuff working. He actually didn't give us too much of an opportunity to feel comfortable at the plate. He kept us out of balance a lot. He got a little bit lucky, too, in a jam. As a pitcher, sometimes that's enough."
Kluber was also economical with his pitches. He didn't go over 10 pitches in an inning until the sixth.
"We kind of talked about how they're a really aggressive team," Kluber said. "We kind of used that against them a little bit. I was expanding on them and getting them to chase some pitches, and getting soft contact."
Holland pitched out of a couple jams in the second and third before the Indians broke through in the fourth. Ryan Raburn led off with a double and came home on a one-out single by Mark Reynolds. Holland got out of that inning by getting Michael Brantley to hit into a double play, but couldn't make it past the fifth.
"You have to give the Indians credit," manager Ron Washington said. "They fought for their at-bats and made him work. They got some base hits in situations where it mattered. After Reynolds got one in there, he just struggled to contain them. He gets 31 or 32 starts, so he's going to have nights where it doesn't work out. Tonight was one of those nights."
Yan Gomes and Mike Aviles led off the fifth with singles. Drew Stubbs was about to bunt the runners over, but Holland allowed them to advance with a wild pickoff throw to second. Stubbs then brought both runners home with a single to left. Holland followed that by hitting Jason Kipnis, and Nick Swisher gave the Indians a 4-0 lead with a single to center that brought home Stubbs.
Holland retired Raburn on a fly to center but walked Carlos Santana to load the bases. That brought out Washington and ended Holland's night.
"In the fifth inning, things kind of went haywire on us," catcher A.J. Pierzynski said. "Derek's going to be fine. I talked to him, and he's having a great year. I hope that this start doesn't get in the way of people realizing how good of a year he's having, and he can continue to get better and be a better pitcher. Hopefully in his next start in five days, he can do that."
The Rangers also hurt themselves offensively by hitting into three double plays, but only one was on the ground. Andrus led off the first with a single but then was doubled off as David Murphy lined out to Reynolds, who caught the ball just off the ground at third base.
In the sixth, Leury Garcia and Andrus led off with walks. Kluber then got Murphy on a fly to left-center, and Garcia was cut down trying to tag up and take third.
"Inexperience," Washington said. "You don't want to take any chances right there."
The Rangers didn't score until the eighth when Murphy drove home Jurickson Profar with a two-out double. It was the Rangers' only hit in four at-bats with runners in scoring position. Pierzynski added a solo shot with one out in the ninth.
T.R. Sullivan is a reporter for MLB.com. Read his blog, Postcards from Elysian Fields, and follow him on Twitter @Sullivan_Ranger. This story was not subject to the approval of Major League Baseball or its clubs.