Reliable Cisnero keeps eating innings for Astros
Reliable Cisnero keeps eating innings for Astros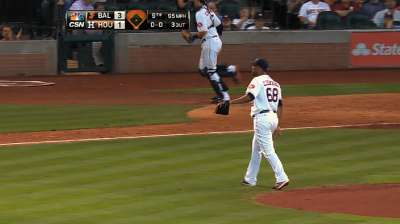 SEATTLE -- Jose Cisnero has been on fire of late for Houston, allowing only one run in his past 16 innings with a win, striking out 18 batters over the six outings.
"I haven't changed anything," Cisnero said. "Mentally being tighter, I go through my same preparation, throw the breaking ball and slider down, and work the corner."
He's been an innings-eater for Houston, going two-plus frames in 10 of his last 11 outings.
"He's done a great job in long relief. He is a starter that we put down in the bullpen because we want to have long relievers," manager Bo Porter said. "He's done a good job in that role, every time we put him in a game, it's been for extended innings and we'll continue to build him up that way. If we needed a spot starter, somebody was to go down, he's in position. He's ready to jump into the rotation."
Jacob Thorpe is an associate reporter for MLB.com. This story was not subject to the approval of Major League Baseball or its clubs.