Gattis almost automatic in a pinch
Gattis almost automatic in a pinch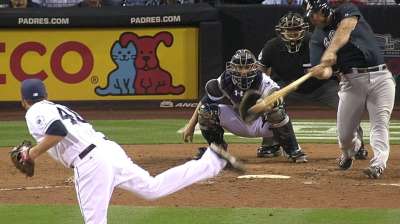 SAN DIEGO -- When Evan Gattis came off the bench in the ninth inning of Monday night's loss to the Padres, the odds were that he could not extend his incredible pinch-hitting exploits. But that was not what Andrelton Simmons and some of his other Braves teammates were feeling.
"You can almost feel it coming," Simmons said. "It's like when he gets up there you expect that he's going to do something special."
Gattis has certainly given his teammates reason to have an overwhelming confidence in his ability to deliver. The rookie catcher's three-run shot off right-hander Tim Stauffer in Monday's ninth inning gave him four home runs through the first eight pinch-hit at-bats of his career.
Gattis has already tied the Atlanta season record Tommy Gregg set when he hit four pinch-hit home runs in 1990. The Dodgers' Dave Hansen set the Major League record with seven in 2000. The Pirates' Craig Wilson matched that total one year later.
"It's special," Braves right fielder Jason Heyward said. "You kind of think you've seen everything you're going to see in the game and then somebody like him comes along and does what he's been doing."
Gattis' latest pinch-hit home run brought the Braves within two runs in what turned into an eventual one-run loss. His three previous pinch-hit home runs had either given the Braves a lead or tied the game in the eighth inning or later.
Gattis entered Tuesday having gone 6-for-8 with four home runs, a double and a walk in nine pinch-hit appearances. The only time he did not reach base with a hit, walk or an error during this span was when he grounded out to end the sixth inning of a May 19 win against the Dodgers.
"His swing works, so you can run him in there against anybody," manager Fredi Gonzalez said. "You don't have to find a lefty-righty combination. If the situation dictates, [using him as a pinch-hitter] you feel good."
Gattis' success has extended beyond the pinch-hitting department. He hit .263 with 14 home runs, 37 RBIs and a .928 OPS through the first 156 at-bats of his career. His days as a regular in Atlanta's starting lineup essentially evaporated when Brian McCann and Heyward returned from lengthy disabled list stints in May.
But despite recording just 41 at-bats in the 24 games that have followed, Gattis still entered Tuesday tied with Justin Upton for the team lead in home runs. His RBI total ranked second to Freddie Freeman's team-leading 43.
Many Braves fans have been campaigning for him to gain an All-Star selection or a spot in the Home Run Derby. Mets third baseman David Wright has been selected the captain of the National League's Home Run Derby squad. He will be responsible for selecting the Senior Circuit's other three participants.
Mark Bowman is a reporter for MLB.com. This story was not subject to the approval of Major League Baseball or its clubs.