Heyward busting out of slump in big way
Heyward busting out of slump in big way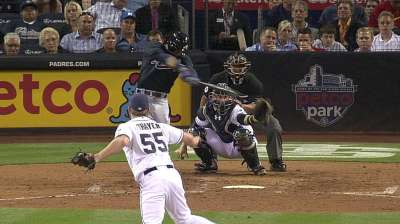 SAN DIEGO -- Jason Heyward did not panic when he hit .167 with two extra-base hits in the first 14 games he played after returning from a nearly month-long stint on the disabled list. He remained confident that he would turn things around in the manner that he has over the course of the past week.
Coming off of Monday night's multihomer performance, Heyward entered Tuesday having hit .412 with a 1.195 OPS in his previous seven games. During this short stretch, he raised his batting average from .142 to .207.
Heyward hit .121 with a .519 OPS in the 17 games he played before undergoing an emergency appendectomy on April 22. After spending nearly a full month on the disabled list, it just took him a couple weeks to get comfortable again.
"I've just had better timing," Heyward said. "The more your timing is better, the better swings you're going to take. It's kind of a trickle-down effect. You get better pitches to hit and you don't miss those. Then you don't give pitchers a chance to get you out."
Mark Bowman is a reporter for MLB.com. This story was not subject to the approval of Major League Baseball or its clubs.