Reyes to continue running program at Dunedin
Reyes to continue running program at Dunedin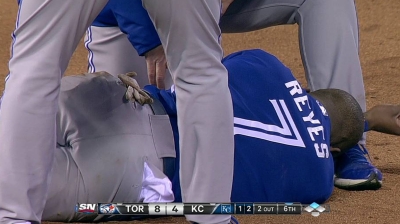 CHICAGO -- Jose Reyes will embark on the next phase of his rehab program when he heads to the Blue Jays' Minor League complex on Wednesday.
Toronto's shortstop is expected to continue his running program in Dunedin, Fla., before appearing in simulated games on Friday and Saturday.
There's still isn't a predetermined time frame for his return, but all signs point to him being back in the Major Leagues before the end of June.
"Hitting is good and the last time, ground balls, I thought it was going to be an issue, but it wasn't an issue at all because I was moving side to side, going back on popups and stuff like that," Reyes said. "That was a big test for me that I passed, so I'm free to go. I'm going to go to Florida and start my rehab as soon as possible."
Reyes has displayed a lot of improvement in the past couple of weeks while rehabbing alongside his teammates. He started with basic running drills, light hitting and fielding ground balls that didn't require lateral movement.
The 30-year-old has since increased the intensity of his workouts. He has been fielding grounders to each side of his body, turning double plays and becoming a regular participant in batting practice.
Reyes also achieved another goal on Tuesday by going through several drills running first to third. That was one of his biggest obstacles to overcome before being cleared because of the pressure it puts on his ankle.
"It feels good," said Reyes, who will wear an ankle brace for the rest of his career. "My ankle is still a little bit tight because that's the way it is. I wish I could be loose enough but that's the way it is, that's something I have to deal with."
Even though Reyes is taking another step in the right direction, that doesn't mean his return is necessarily imminent. Blue Jays manager John Gibbons estimated that the Dominican native could need upwards of two weeks of rehab games before rejoining the Blue Jays.
That would seem a little high, but at the same time Reyes is essentially having to start Spring Training all over again because of his prolonged absence.
Another big test for Reyes will come when he starts facing live pitching. He will need to get his timing at the plate before the Blue Jays opt to put him back into the starting lineup on a daily basis.
"I didn't play for two months so when you don't play for that long you're going to lose some stuff," said Reyes, who was hitting .395 in 10 games this season. "But at least I've been hitting BP the last two weeks, working on my swing but the big thing is going to be facing live pitching. That's when I'm going to know where my swing's at, but other than that everything feels good."
Gregor Chisholm is a reporter for MLB.com. Read his blog, North of the Border, and follow him on Twitter @gregorMLB. This story was not subject to the approval of Major League Baseball or its clubs.