Jones rolling after turning corner from early struggles
Jones rolling after turning corner from early struggles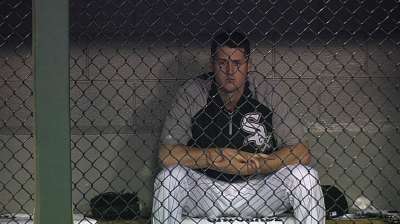 Nate Jones has seemingly turned a corner after starting his sophomore season in a major slump. He holds a 1.00 ERA with 11 strikeouts in his last six games after recording a 10.13 ERA and 11 strikeouts in his previous 10 outings.
"We need him in the mix," White Sox pitching coach Don Cooper said. "We need him to pull his end of the bargain. He wasn't horrible early, but he wasn't nearly as consistent as he needed to be. Now it seems like he's got it going. He's throwing more first-pitch strikes. He's getting ahead in the count. He's getting a little bit better angle and he's throwing all his pitches for strikes."
Jones had retired 15 batters in a row before Toronto shortstop Munenori Kawasaki singled to lead off the sixth inning on Monday. He allowed two hits over 1 2/3 innings and received the win in the series opener against the Blue Jays after Dylan Axelrod was removed from the game early.
Manager Robin Ventura said Jones was never at risk of a demotion during the height of his struggles because he and the pitching coaches thought the 27-year-old right-hander could work out the issue in the Majors.
"To do that, you'd need something to fill that in with that'd be an upgrade, and I felt like he was the best guy and Coop did, too," Ventura said. "You figure you can fix that. We've seen what he can do, and I don't know if it was a sophomore slump or whatever, but he has the stuff to be able to stay up here for a long time."
Jones enjoyed one of the better seasons by a rookie reliever in White Sox history last year, going 8-0 with a 2.39 ERA. For that reason, Jones wasn't nervous that he'd eventually find success. Cooper kept reassuring him that if he kept throwing strikes then eventually the rut would end.
Jones said little has changed in his approach through this season, but his recent success could be a function of getting ahead in counts, which allows him to expand his pitch selection. Opposing hitters aren't sitting on his fastball as much because he's locating his changeup and slider to work the count in his favor.
"I don't know if it's strike one but kind of the way you get strike one," Ventura said. "I think he throws hard, but again you're going to have to locate everything. Guys can hit 97-mph fastballs. To be able to locate something else to get them off of that has been big for him."
Ethan Asofsky is an associate reporter for MLB.com. This story was not subject to the approval of Major League Baseball or its clubs.