Hudson's winless streak extends to seven
Hudson's winless streak extends to seven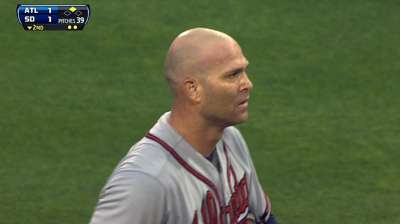 SAN DIEGO -- Tim Hudson might have shown his frustration had he experienced similar misfortunes in the midst of the struggles he endured in May. But now that he has righted himself with three impressive starts to begin this month, he could chalk this one up as just one of those games where luck was not on his side.
Hudson had no reason to be ashamed of the determined effort he produced for the Braves during Tuesday night's 3-2 loss to the Padres at Petco Park. After allowing one run in each of the first three innings, he proved dominant over the course of the next 4 1/3. But he ended up on the wrong side of a pitcher's duel against Andrew Cashner.
"I felt really good tonight," Hudson said. "I felt it was probably one of my top two or three games, stuff-wise. I felt like I just made a couple bad pitches and somehow gave up three runs. They took advantage of the [Chase Headley] homer and the pitch to [Carlos] Quentin."
The two pitches that bothered Hudson the most at the end of his 101-pitch effort were the hanging splitter that Headley snuck over the right-field wall in the first inning and the first-pitch fastball that Quentin shot to left field with two outs in the third. Quentin's single scored Everth Cabrera with what proved to be the decisive run.
"With two outs, I've got to make a better pitch to Quentin," Hudson said. "He's a dead-red fastball hitter and I piped one down the middle for him."
Hudson retired the next 13 batters he faced following Quentin's single. His dominant stretch ended when Jesus Guzman recorded an infield single on a swinging bunt down the third-base line to begin the eighth.
Unfortunately for Hudson, he had little room for error. Cashner allowed singles to three of the first four batters he faced and allowed the Braves to take an early lead on Freddie Freeman's two-out single in the first. The big right-hander retired the next 10 batters he faced and allowed just two runs in a career-high eight innings.
"He was able to keep us off balance," Freeman said. "He wasn't really throwing his heater a lot tonight. But you knew he [could throw] 96 or 97 mph. So, you've got to be aware of it. He was able to throw his slider and his changeup and he was throwing offspeed in hitter's counts."
The Braves have lost the first two games of this series and four of the first six games of this seven-game trip that began with a stop at Dodger Stadium. But they still have a comfortable seven-game lead over the second-place Nationals in the National League East race.
After surrendering Headley's game-tying homer, Hudson began the bottom of the second by issuing a 10-pitch walk to Kyle Blanks, who scored on a Nick Hundley two-out double that fell on the left-field line just in front of a sliding Justin Upton.
"I thought [Upton] busted his butt to try to get to that ball," Braves manager Fredi Gonzalez said. "Two inches the other way, it's foul. It's one of those things that I just would call 'no man's land.'"
Hudson was surprised Cabrera was able to begin the decisive third inning by muscling an inside fastball the other way to shallow left field for a double. Two batters later, Quentin delivered his two-out single.
"As the game went on, [Hudson] got better," Padres manager Bud Black said. "The cutter came more into play and he threw some fastballs in on lefties. He pitched well."
Hudson allowed three earned runs and five hits in 7 1/3 innings. This marked the second time in his past three starts that he pitched into the eighth inning. But he remains winless in his past seven starts dating back to May 10 and dropped his first career decision to the Padres.
Since allowing at least five runs in three of his final five starts in May, Hudson has produced three consecutive encouraging outings. He entered this outing having allowed just one earned run in the 14 1/3 innings that had encompassed his previous two starts.
"I feel like the last two or three times out, I'm right where I want to be," Hudson said. "I just don't have a whole lot to show for it from a wins standpoint. But if I just keep throwing the way I have been the last three or four starts, it's going to be a good year."
Freeman provided Hudson an early lead when he notched the last of the three first-inning singles surrendered by Cashner. But the Braves' first baseman, who has hit .462 with runners in scoring position, grounded into a double play after Jason Heyward and Upton opened the sixth inning with consecutive singles. Heyward scored on the double play that silenced Atlanta's last threat.
"We got him on the ropes that one inning and I grounded into a double play to kill a rally," Freeman said. "We've got to take advantage of those and we weren't able to do that tonight."
Mark Bowman is a reporter for MLB.com. This story was not subject to the approval of Major League Baseball or its clubs.