CC roughed up by A's in old stompin' grounds
CC roughed up by A's in old stompin' grounds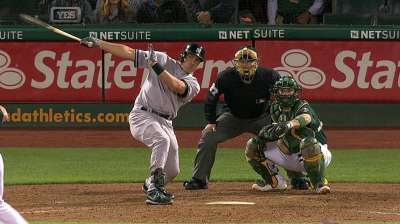 OAKLAND -- CC Sabathia should feel more at home in the O.co Coliseum. He attended ballgames here as a kid growing up in nearby Vallejo, still pays his way in to see the Raiders play on winter Sundays, and always has a local cheering contingent on hand for his starts.
For whatever reason, Sabathia's level of comfort does not seem to extend to the mound. The Athletics knocked the left-hander around for six runs on eight hits, including a pair of homers, as the Yankees suffered a 6-4 defeat on Tuesday night in Oakland.
"I just felt like everything was flat; no real life on the fastball," Sabathia said. "It's up to me to go out there and battle, try to keep us in the game. I couldn't do that today."
Sabathia was finished after six innings as his career ERA at O.co Coliseum swelled to 5.29, his highest at any current American League park.
More troubling for the Yankees, the outing represented another stumble for their ace, just when Sabathia had seemed to figure something out by stringing two good starts together against the Red Sox and Indians.
"He made mistakes," Yankees manager Joe Girardi said. "You can't make mistakes at this level. If you do, sometimes you're going to get away with them, but most of the time you're not."
Coco Crisp slugged Sabathia's second pitch of the evening over the left-field fence, and the A's cruised the rest of the way. Derek Norris delivered the big blow, a three-run blast with two outs in the fourth inning, as part of a four-RBI night for the Athletics catcher -- the first of his career.
"I think [Sabathia's] numbers show that maybe here he hasn't pitched as well as everywhere else," A's manager Bob Melvin said. "I know this is home for him, but you try to get to a good starter like him early in the game, and we were able to."
Sabathia said that he didn't question the pitch selection to Norris, a first-pitch curveball that was hammered, but catcher Chris Stewart accepted responsibility.
"That was my call. That's my fault," Stewart said. "We threw him a lot of fastballs his first at-bat and figured he was going to try to go up there and look for the same thing. We're just trying to get ahead with the curveball, and he hit it out of the park."
Norris also had a soft second-inning RBI double that plopped in front of right fielder Lyle Overbay, also with two outs, and Sabathia uncorked a full-count wild pitch that allowed Josh Donaldson to score Oakland's sixth run in the sixth inning.
"It's disappointing. It's definitely frustrating," Sabathia said. "After having two good ones and feeling really good, just not having it today is frustrating. I'll be ready to go in five days."
The Yankees were blanked for six innings by right-hander Bartolo Colon, who permitted just three hits while striking out three and uncharacteristically walking four batters; Colon had allowed just six free passes over his first 12 starts of the season.
Overbay said that the Yankees wasted a prime opportunity in the first inning, as New York loaded the bases with one out thanks in part to two of Colon's walks. Kevin Youkilis and Overbay both popped up into the Coliseum's generous foul ground, allowing Colon to wriggle free.
"I think we lost the game when we couldn't score in the first inning," Overbay said. "That kind of set us up and it gave Colon some momentum."
New York finally pushed onto the board in the eighth inning against reliever Jerry Blevins, as Mark Teixeira and pinch-hitter Vernon Wells connected for run-scoring singles.
The Yankees added two more runs with two outs in the ninth on another Teixeira single, but A's closer Grant Balfour got Travis Hafner to fly out to the wall in left-center field to end the game.
"I hit it good," Hafner said. "You know that in Oakland at night it doesn't carry well, but I was hoping it'd at least be off the wall. You just want to win the game. We had a good comeback going and I was hoping it'd continue there."
The same can be said for Sabathia, who has had a very up-and-down season at the helm of New York's rotation. His decrease in fastball velocity has been a hot topic, but it should also be noted that Sabathia has now permitted a team-leading 14 home runs, which ranks third in the American League.
Stewart said that statistic might stem from Sabathia's willingness to challenge hitters by firing strikes, which generally is a positive trait. It didn't seem so on Tuesday, however, as Sabathia was unable to miss too many of the bats he was trying to throw past.
"I'm not ready to give up on him. I expect his next start to be a good one," Girardi said. "He still has the same repertoire, he just doesn't have the same velocity. I just think he had an off night."
Bryan Hoch is a reporter for MLB.com. Follow him on Twitter @bryanhoch and read his MLBlog, Bombers Beat. This story was not subject to the approval of Major League Baseball or its clubs.