Rockies hopeful Chatwood can start Friday
Rockies hopeful Chatwood can start Friday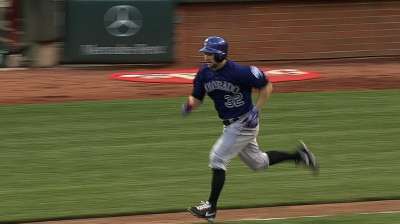 DENVER -- Rockies right-hander Tyler Chatwood, who suffered a slight injury to tissue at the back of his elbow on June 3 in his last start, reported feeling good while using all of his pitches in a bullpen session Tuesday. The Rockies are looking to start him Friday against the Phillies, and how Chatwood feels Wednesday will go a long way toward the final decision.
Chatwood (3-1, 2.14 ERA) suffered the injury when he hyperextended his arm throwing a fastball to his glove side. He said the arm responded well Tuesday when he threw similar fastballs, and when he threw his slider. The Rockies removed him after he gave up one run in four innings, and he ended up with the decision in a 3-0 loss to the Reds.
The Rockies' treatment of him then and since has been precautionary.
"I wouldn't say concerned, it was just more annoying," Chatwood said.
The Rockies also have listed struggling left-hander Jeff Francis (2-4, 6.30 ERA) as starter Thursday against the Nationals. Some speculated whether Francis would stay in the rotation after he threw 93 pitches in four innings and gave up four runs and six hits in a loss to the Padres on Saturday.
Some of that speculation centered on the passable numbers that veteran former All-Star Roy Oswalt, signed on May 3, has put up in four starts at Double-A Tulsa (2-2, 2.88 ERA, 18 strikeouts, six walks). But Oswalt, who can opt out of his deal if not brought to the Majors on June 18 or June 28, is still building arm strength. Oswalt is slated to start for Tulsa on Friday.
Thomas Harding is a reporter for MLB.com. Read his blog, Hardball in the Rockies, and follow him on Twitter @harding_at_mlb. This story was not subject to the approval of Major League Baseball or its clubs.