Starts at second bring back memories for Rendon
Starts at second bring back memories for Rendon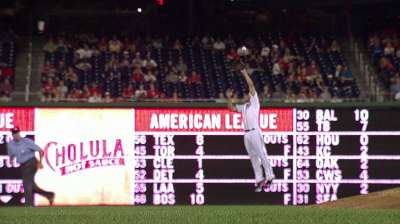 DENVER -- When Nationals rookie Anthony Rendon made his first Major League appearance at second base last Wednesday, it rekindled Little League memories.
Rendon played third base in college and made the first eight starts of his big league career at that spot earlier this year while filling in for Ryan Zimmerman. But with usual starter Danny Espinosa on the disabled list with a broken right wrist, the Nationals slid Rendon over to second base.
In addition to eight starts at second base in the Minor Leagues, second base was Rendon's home from the time he started playing baseball until the age of 10 or 11.
"I was always the smallest kid on the team so they just threw me at second base," Rendon said. "I mean, I kind of know how to play the position, but just going back, it's been awhile. But just kind of bringing back memories, going back over there."
Rendon said he is still getting used to playing on the right side of the infield, and he's taking advice from anyone who has experience playing the position. Although it might seem like a minor adjustment, the throws and angles at which the ball comes off the bat require a reworking of the instincts he has developed at third.
"The way it comes off the bat, the angles," Rendon said. "You see a right-handed batter, he's going to open up to try to pull the ball, you can see that. Being on the other side you just try to pick up these little antics."
Instead of making the routine third-to-first throw across the infield, Rendon will now be turning double plays. Manager Davey Johnson -- who played first, second and third base in his big league career -- made a similar move as a player.
Johnson said it will take time for him to feel fully adjusted to the right side of the infield.
"It's going to take him a little while," Johnson said. "I know the first time I moved over there, it really took you a couple months to get where you felt like you didn't actually have to see the bag as you come up to touch it. On the other side of the diamond, you're never even going to look at the bag, you just know it's there."
Ian McCue is an associate reporter for MLB.com. This story was not subject to the approval of Major League Baseball or its clubs.