Field narrowed for All-Star Week's Tribute for Heroes
Field narrowed for All-Star Week's Tribute for Heroes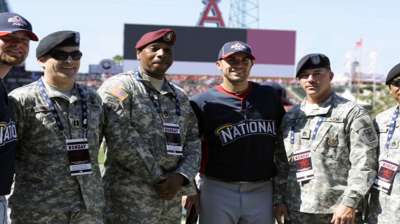 KANSAS CITY -- Major League Baseball and People magazine announced the 90 finalists for the Tribute For Heroes campaign. The Royals' three finalists are Abel Ramos, James Rash and Clayton Zupon. Fans are encouraged to vote for their favorite stories on TributeForHeroes.com through June 30.
The Tribute For Heroes campaign is a national initiative that recognizes veterans and heroes. One winner from each of the 30 teams will be included in the All-Star Week festivities and recognized during the All-Star Game's pregame ceremony July 16 on FOX. They will also be featured in the July 22 issue of People, which hits newsstands on Friday, July 12.
Ramos, a son of Mexican immigrants, was born in Texas and spent his summers as a migrant worker. He graduated from the United States Air Force Academy and pilots the A-10 Thunderbolt II. Ramos spent 11 years on active duty and the past five-plus as a full-time reservist. He deployed once to Iraq and three times to Afghanistan. He is now the assistant director of operations for the 303d Fighter Squadron at Whiteman Air Force Base in Knob Noster, Mo. He volunteers in the community, visits retirement homes and gives presentations at his kids' elementary school.
Rash, of Galt, Mo., served as a radioman in a medical evacuation quadroon, air-lifting wounded soldiers from the battlefield to triage areas in Vietnam. In assignments with the United States Secret Service, he provided communications support for presidential candidates and both national conventions in 1972 and '76. After retiring from the Air Force, he worked for 19 years with Hughes Aircraft. Rash now coaches with Special Olympics in Missouri, serves as post adjutant for the VFW and serves as secretary for the Galt, Mo., Lions Club.
Zupon joined the Marines after passing up potential baseball scholarships. On his second deployment to the Middle East, doctors discovered a tumor in his brain and another on his spine. As a single-father with a 2-year-old son, Zupon was given 12 months to live, but he is still alive three years later. He was honorably discharged with medical retirement in 2010 and now spends time with kids at the Cancer Center at the Children's Hospital in Kansas City. He also teaches and coaches kids' bowling on Saturdays and participates in motorcycle rides to raise money for the Wounded Warrior Project.
The Tribute For Heroes campaign supports Welcome Back Veterans, which is an initiative of Major League Baseball, and the Robert R. McCormick Foundation, which provides grants to hospitals and clinics that provide post-traumatic stress disorder and traumatic brain injury treatment to veterans and their families.
Dick Kaegel is a reporter for MLB.com. Kathleen Gier is an associate reporter for MLB.com. This story was not subject to the approval of Major League Baseball or its clubs.